eTamu.id – Marketing is the process of introducing a product or service to the public. Marketing also means the process of marketing a product or service, starting from making strategies to what consumers feel.
The development of the business world makes the marketing process also develop. One proof of its development is the emergence of online marketing, which can be interpreted as an introduction of products or services via the internet.
In the past, marketing was limited to physical forms such as billboards, pamphlets and banners. However, now it has begun to penetrate the digital world such as in social media, online advertising, and others.
In this article, eTamu.id will fully discuss the meaning of marketing, its types, and the skills needed to have a successful career in this field.
What is Marketing?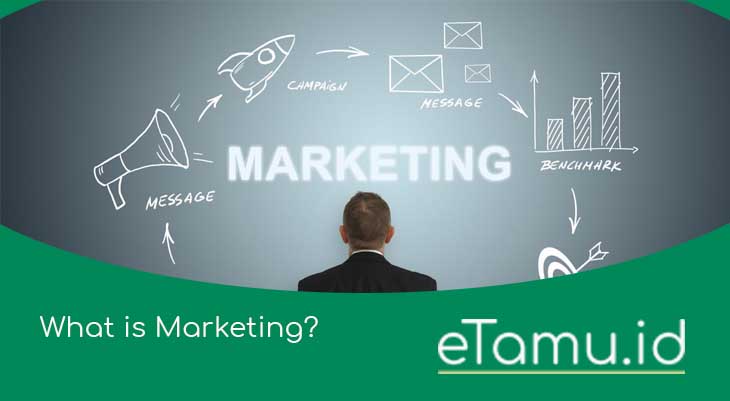 According to Caroline Forsey from Hubspot, marketing or marketing is the process of getting people interested in the products or services of a company. To carry out this process, it is necessary to carry out market research, analysis and search for the ideal customer.
A very broad definition of marketing explains how the process is in marketing itself. Marketing even starts from the product development process, distribution methods to be carried out, product or service sales, and advertising.
Technological developments make the definition of marketing broaden. Today there are two types of marketing: online and offline. These two concepts are separated by the medium, where online uses the internet, while offline does not.
Why is Marketing Important?
In a business, marketing has many functions. Is not only able to make ordinary people understand the products or services offered, but also increase sales to make the business grow.
In general, marketing is useful for explaining the products or services offered to the public. Sellers of course know what products or services they offer, but what about the general public?
To use a product or service, people need education. According to Creativs, this is the most effective way to explain a product or service to potential users. To add value, use fun and interesting materials.
There are many ways. Among them is simply giving thanks for using your product or service. You can also give gifts to loyal users or buyers. This process is important because they will make your product or service their first choice.
Types of Marketing
As already explained, marketing comes in two forms: online and offline. If offline has medium limitations, it's different with online. By doing online marketing, you can get various things to get buyers without restrictions.
1. SEO
Search Engine Optimization or SEO is the most popular type of marketing today. This process uses website optimization so that products or services appear in search engines like Google.
By utilizing SEO, product or service owners can target and analyze prospective buyers specifically. For example those aged 18 to 25 years or people who live in certain cities.
2. SEM
Search Engine Marketing is known by the acronym SEM. SEM's job is to make the product or service offered appear first in search engines. In addition, this type can maximize the arrival of potential buyers with the pay per click method.
3. Social Media
Social media is also as popular as SEO. The difference is, on social media, the products or services offered will not be easy to get to potential buyers. This is because each social media has a different segmentation and target market.
4. Video
Types of video change over time. If in the past video marketing was only used to attract potential buyers, now video marketing can also be used to maintain buyer loyalty. One example is creating a mini film or television series.
5. Blogs and Printed Media
Other types are blogs and print media. Through this type, product or service owners can market their products through banners and writing (when using blogs) and advertisements (when using print media).
Apart from those mentioned above, there are actually many types of marketing. Starting from ad-lips developed by radio channels or free trials, which offer free products with a certain trial period.
Get to Know the 4P Marketing
In the 1960s, E. Jerome McCarthy, writer and professor of marketing, introduced the 4Ps concept in Basic Marketing: A Managerial Approach. So, the 4Ps of marketing are product, price, place, and promotion.
Basically, the 4Ps of marketing explain how is it intersects with every stage of the business. In addition, the 4Ps are a combination of factors that determine or influence every public decision regarding products or services in circulation.
1. Product
Product is the first factor. Products are important because to influence society, you don't just need a ready-made product or service.
The question that will arise is usually how this product or service is displayed. After that, the product or service owner can conduct a market test regarding public opinion regarding this product or service, whether it is attractive or not.
Without understanding the above, the product or service offered will be difficult to accept. Understanding of the above will make the owner continue to think about ways to improve the quality of products or services without assumptions.
2. Price
After determining the product or service, the next thing to pay attention to is the price. To determine prices, product or service owners can check competitors' prices or see how far potential buyers are willing to pay.
3. Place
Place refers to the process of distributing the goods or services that you offer. Apart from the process, you also have to know how broad the range of your products and services is.
Yes, here you have to know very well who your product and service targets are and what is the best way so that people can get your product.
4. Promotion
The final factor in the 4P's is promotion. Promotions include advertisements, events or discounts designed to increase understanding of the products or services being offered. Not only that, promotions also allow products or services to attract more buyers.
Career in the World of Marketing
There are four roles in the world of marketing. The four are communications, social media and content, SEO, and digital marketing. As for some companies, social media and content are different roles.
These four roles are usually carried out by fresh graduates or people who have less than two years experience in their respective fields. In this role, these people are usually given the task of executor.
After that, there is the management level. Managerial rank is usually earned by persons with experience of more than two years in a staff position. At this level, the big task is to conceptualize, maintain, and evaluate strategies.
The last structural position is director. The director is usually associated with the manager. They share tasks in strategic affairs. However, all concepts and evaluations of the company are in the hands of the director.
Key Skills for a Marketing Career
In several positions in marketing, the need for technical skills such as the ability to analyze Google Analytics to understand search engine processes is quite high. However, according to Target Jobs, companies often relax the rules for skills.
The main skills required are creating, executing and evaluating campaigns. In this task, a marketer is not only required to be creative and innovative, but also sensitive to the campaign being run.
Being sensitive to issues is the second need. Sensitivity to issues is important because it will affect how campaigns are run and accepted in society. In fact, usually the ideas or innovations that appear in marketing campaigns are influenced by issues that are currently viral in society.
The final skill for a marketer or marketer is conducting market research and analysis.
Market research and analysis is carried out to find out the strategy to evaluate the campaign. Even so, market research and analysis is carried out not only to look for quantitative data, but also qualitative.
So, that was the understanding and sundries of marketing that you need to know.
If you are a fresh graduate or want to switch careers, eTamu.id has curated the latest marketing job vacancies for you.
In the curation you can also learn about the profile and work culture of each company.
According to Forty, marketing is the best way to keep the value of the product or service offered high. In the midst of business competition, this process will determine what products or services will make buyers survive and help them grow.