As a marketer, you must know the video marketing trends that will emerge in 2023. Because this marketing strategy is considered effective and profitable. In fact, Wyzowl research shows that 86% of companies worldwide are using video as their marketing tool in 2021.
In fact, 93% of them stated video marketing as the main strategy to attract audiences. So, therefore, what are the new modes of video marketing that you need to anticipate in 2023? Here are 8 examples of eTamu I curated for you.
8 Video Marketing Trends That Will Boom in 2023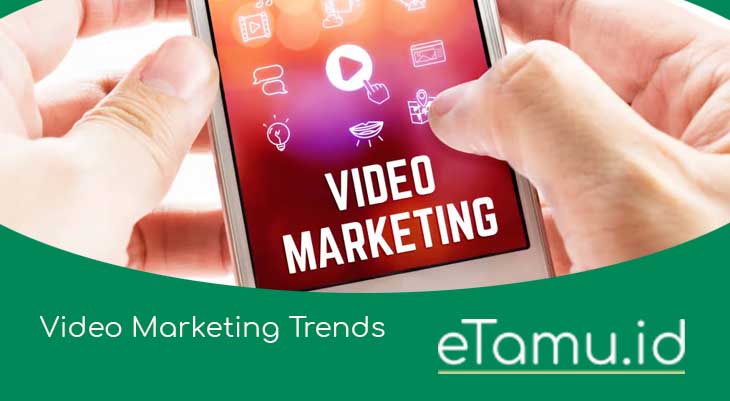 1. Live Videos
According to the Marketing Insider Group, one of the video marketing trends that will boom in 2023 is live video. This type of video initially became a trend in 2020 when the Covid-19 pandemic immediately stopped all activities outside the home.
Then, over time, live video is increasingly favored by companies and many well-known content creators. They consider streamable video to be used as a means of connecting between companies or content creators and audiences.
These benefits are still relevant today. Therefore, the live studio is predicted to explode again in 2023.
2. Smartphone production
Smartphone production is predicted to be a big video marketing trend in 2023. This is because many companies and content activists want to reduce their budget for production purposes.
Not only that, the quality of the camera owned by a smartphone is now no less when compared to a DSLR camera. The development of social media marketing has also contributed to the advancement of video production using this smartphone.
For example, short content on TikTok and YouTube Shorts will definitely be more effective if the video is recorded on a smartphone.
3. Videos for SEO optimization
Video for SEO optimization purposes will also become a video marketing trend in 2023. Yes, video content can apparently be used to drive the quality of company website content.
This SEO development technique is considered effective for placing the company's site in a good ranking on the SERP. However, how can you use videos to optimize SEO?
You need to focus on three main aspects, namely relevance, consistency and backend optimization. In this way, it is guaranteed that the video can provide good results on search engines.
4. User generated videos
According to Design Shack, user generated videos are a video marketing trend that marketers must pay attention to in 2023. These user-generated videos have actually been popular on social media for a long time.
You can find it in many well-known business entity marketing campaigns. In fact, it's so often used that engineered videos that look like they've been made by users can have an authentic look.
So, this type of video will boom again because it is still considered effective for increasing customer loyalty. Inviting the audience to take part in production can also indirectly be an effective way to attract their emotions.
5. Interactive videos
Interactive video is a video marketing trend that is predicted to be the most popular in 2023. The reason is, this type of video is a shortcut to increase engagement from the audience.
It can also grow brand loyalty numbers because audiences generally prefer interactive content. Interactive videos come in many forms. It can be virtual reality videos, games, or even links to posts shared in the video.
One thing is for sure, you have to give viewers something to do after they've watched the video. Continue engagement into a valuable activity. For example, you can provide CTA in the video.
6. Vlogs
The next video marketing trend that is predicted to boom in 2023 is vlogs. When it comes to online viewing habits, vlogs are probably one of the most popular forms of video content among internet users.
In fact, according to Finances Online, over 44% of Internet users watch vlogs per month. In fact, now many individuals use vlogs to document their daily lives or simply express themselves.
Uniquely, companies can use the same thing so that their audience can feel closer to them.
7. Silent videos
Every day, many audiences enjoy video content while commuting or in public spaces. As a result, they often use headphones or even turn off the sound in the video.
Therefore, it is predicted that silent videos will become a big trend in the world of video marketing in 2023. If you want people to stay and watch content, optimize videos for silent viewing purposes.
However, don't forget to provide captions so they can catch the topic of the content easily.
8. 360 Videos
The last video marketing trend that you should anticipate in 2023 is 360 videos. This type of video is one of the content trends that has changed the landscape of the viewing experience for many consumers.
Live 360 videos give audiences more control over how they view products or content, Finances Online reveals. Apart from that, this type of video also allows the audience to see a product demonstration before they decide to buy it.
Therefore, it makes the sense that 98% of audiences in the United States say 360-degree videos are more engaging than other video formats.
Final Word
Those are eight video marketing trends that you can take advantage of in 2023. In essence, video marketing is the best marketing strategy that will always be relevant as technology develops.
Therefore, don't forget to study this strategy well and use the trend examples above. So, apart from the explanation above, learn other information about predictions for 2023 about the world of work and professional fields on the Glints Blog.
Related post: