eTamu.id – Social media marketing is one of the various types of marketing that is now widely used. Simply put, this type of marketing takes advantage of the role of social media in the marketing process.
Today, many companies use social media marketing. This type of marketing is indeed more efficient, when compared to conventional marketing methods.
So, in this article, eTamu will explain what social media marketing is. In addition, it will also explain the social media marketing strategies themselves.
What is Social Media Marketing? (Definition)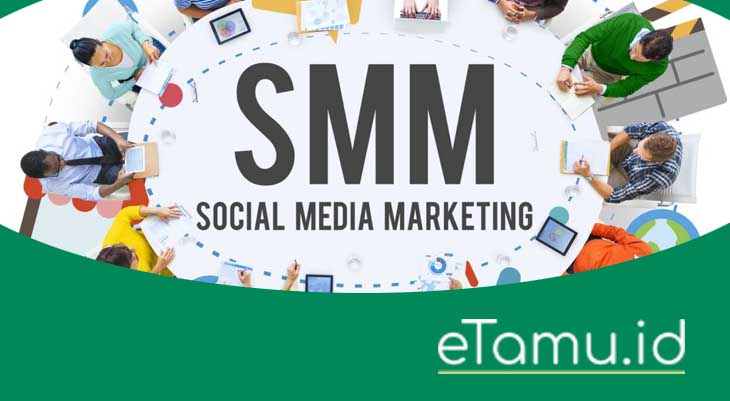 In simple terms, social media marketing is a marketing process carried out through social media. Usually the social media used is Facebook, Instagram or Twitter. However, its meaning could be broader.
According to Hubspot, social media marketing is an act of creating content. This content will later attract the attention of the public.
Meanwhile, according to Neil Patel, social media marketing is the process of attracting people's attention to be engaged with the content presented. If it's bound, the possibility that the content will be shared is certainly greater.
Why is Social Media Marketing Important? (Benefits)
A study states that more than 3.2 billion people in the world use social media today. This figure is an interesting fact, as well as proof that social media is loved by the public.
With social media, the marketing process will be much more fun. There are several advantages that could be the reason why this type of marketing is important. Here's the explanation.
1. Increase brand awareness
A product will be increasingly recognized when it is continuously uploaded on social media. This is because people slowly start paying attention.
At first people might only look at the products or services you offer for a while. However, if you continue to upload it on social media, the product will begin to be recognized and remembered by the public.
This is because social media is a platform that people continue to consume every day.
2. Get product feedback and marketing strategy
This is the advanced stage of the social media marketing effect. Once its existence is recognized, a product will start to become a topic of conversation. You can also see firsthand how customers interact with content on your social media. For example by giving likes or following your account.
Plus, social media also offers a comment feature. This allows people to give their opinion about the product you offer or the way you market your product.
For companies, this can be a tool to measure the strengths and weaknesses of the product or marketing strategy you choose.
3. Studying competitors
Studying competitors is easier with social media marketing. The reason is, social media marketing is now widely used by companies to market products.
By being active on social media, the strategies carried out by competitors can be your learning material.
Strategy in Social Media Marketing
In general, there are several strategies that you can apply. Come on, see the following explanation.
1. Study the tastes of consumers
First, look at the tastes of your customers or audience. Audience tastes can be a benchmark for the suitability of the products we make.
In addition, by mapping audience tastes, you can determine what interesting content to create on social media. The more the audience tastes match the content you present, the greater the engagement.
2. Determine the platform you want to target
Second, determine which platform the product will be sold on. As mentioned above, each platform has its own features. This will affect the presentation of the content of the product to be sold.
For example, a product will be marketed on Instagram. So, the product must be marketed in a millennial style. why? Most of Instagram is used by millennials, so the content must be packaged as relevant as possible.
3. Create engaging content
Interesting content should result in increased engagement and sharing. With interesting content, people can also be moved to buy or use the products that are being marketed.
To create interesting content, of course you have to do research first. Find out what content your audience needs and what type of content they like the most. For example, if your audience prefers video content, you can focus on creating interesting videos.
4. Schedule a posting time
Set the right time to sell products, by seeing when people are active on social media.
For example, upload your content when you leave, take a break, or go home from work. At that time, people were usually active on social media. Don't upload when it's 9pm and above. At that time, chances are people are asleep so they can't see your content right away.
5. Evaluation
Social media will provide accurate data regarding success in the marketing process. These data can be used as learning materials for better marketing in the future.
Apart from engagement and sharing, there are other factors that can measure the success of SMM. Among them are followers (followers), the number of people who view content, and how many people re-upload the content that is made.
From the evaluation that you did, study your audience's pattern to test several strategies until you find the most suitable one.
Social Media Options You Can Use
More and more types of social media are present along with technological developments. However, some of them have lasted for years. In Indonesia, there are several social media that are commonly used.
1. Facebook
Facebook users currently allegedly reached 2.2 billion people. When Mark Zuckerberg created it in 2005, Facebook was only used by US students.
Now, Facebook is the most widely used social media. In marketing purposes, Facebook can be used to increase brand awareness of a product through content production. Facebook is also suitable for those of you who want to advertise.
2. Twitter
Twitter is estimated to have been used by 335 million people in the world. In terms of social media marketing, Twitter is used more for customer service purposes.
This is because the main difference between Twitter and other social media is interaction. Twitter provides a great opportunity for companies to directly interact with the public.
This is certainly different from marketing strategies on Instagram or Facebook which prioritize publication content rather than direct interaction.
3. Instagram
Instagram users are estimated to reach 1 billion people in 2019. This type of social media, especially in Indonesia, is widely used by the millennial generation. Moreover, there are many interesting features on Instagram.
In the context of social media marketing, Instagram is suitable for use as a product catalog. The display of product photos will fit in an Instagram album, especially if you add interesting filters.
The Instagram comment column or the poll and question features are also suitable for use as a forum for discussions between companies and customers. With these various features, it's no wonder that many companies use Instagram as a promotional medium.
4. YouTube
The number of YouTube users is relatively large, namely nearly 2 billion people. On this platform, people can upload videos of quite a long duration.
Also with this feature, YouTube is suitable for use as an advertising medium for a product. The duration of the ad can be made long. In fact, there are several advertisements on YouTube that are packaged into a short drama.
Key Skills in Social Media Marketing
Knowledge about social media marketing is indeed not obtained in college. However, there are several online sites that provide short courses on social media marketing. You can try it without having to go to school again.
Besides that, to understand this work, you certainly have to be active on social media. From there you can see people's habits, as well as when people use social media. From there too, you can analyze what kind of content can attract the attention of the audience.
In essence, in order to become someone who understands social media, he must understand good content, and know what is currently being discussed on social media.
That is the initial provision to become a social media marketing expert. A reliable social media marketer must also have the ability to write and think creatively. Other skills that must be possessed include strategy, analyzing, and good communication.
So, those are the sundries of social media marketing and tips for success.
Related post: