eTamu.id – Content audit is one of the procedures you can do to maximize your content marketing strategy. Every day, there must be new content produced by competitors. The content that you create must be able to compete with millions of other content on the internet.
In addition, industry trends are always evolving and the needs of the target audience are also usually changing. In order to improve content quality, come on, learn more about the discussion about content audits from eTamu.id below!
Definition of Content Audit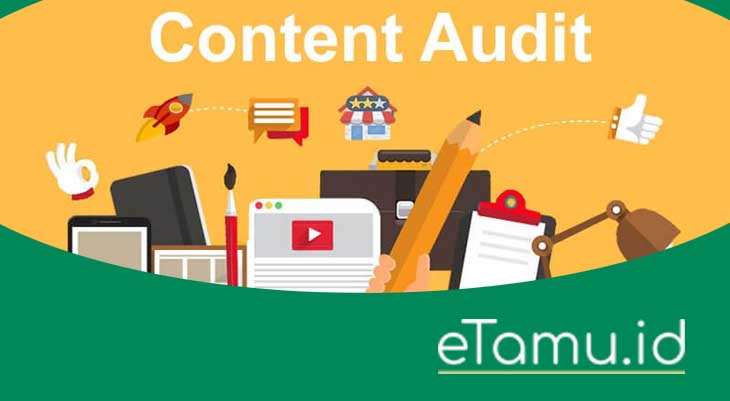 According to Semrush, content audit is a process of systematically assessing and analyzing all existing content.
The aim is to find out the strengths and weaknesses in the content strategy that has been implemented so far. After that, you can improve your strategy and adjust it to the goals you want to achieve.
Bright Edge added, one of the purposes of a content audit is also to ensure that the content created meets the needs of the audience or not.
Not only on social media, this audit process also needs to be carried out on all content, including website content.
Important questions when conducting a content audit include the following:
Does the content created meet the needs of the audience?
Is the content created according to the customer journey, from the awareness stage to conversion, or are there still gaps to be filled?
Has the content created managed to attract the attention of the right audience?
Has the content created succeeded in increasing interaction and engagement with the audience?
Benefits of Content Audit
What is the importance of conducting a content audit? Here are some of the benefits you can get when you successfully implement an audit on your content to the fullest.
1. Make content more relevant
By doing a content audit, you can see the performance of the content from the less good to the best. From there, you can judge what topics and types of content the audience currently likes.
For content that is not performing well, you can also analyze whether the information in it has changed so that it is no longer relevant to readers.
2. Optimizing SEO
The next benefit of a content audit is optimizing search engine optimization. Did you know that search engine optimization optimization strategies are always changing?
Starting from how to write meta descriptions, meta tags, and so on, everything can change at any time. If you want to maintain the performance of your content in search results, you must always update it.
By doing a content audit, you can edit old articles so you can still compete with your competitors.
3. Maximizing various channels
When conducting an audit, you will evaluate various metrics from the various content channels produced.
Such as the number of downloads, clicks, newsletter subscribers, and others. That way, you can draw conclusions about:
What kind of channel does the audience prefer.
What kind of channels are better suited for certain types of content.
4. Improve content structure
You may have many articles with high clicks on the website. However, the structure of the information is confusing to the reader. Finally, this causes a very high bounce rate.
Content audit is a way that needs to be done to identify these issues. That way, you can make improvements to the structure.
5. Evaluate the quality of the content
Is your website content low, medium, or high quality? For the type of content, is it dominated by in-depth discussions or just short writing?
Google can detect short, repetitive and low-quality content. Therefore, you must be able to identify which content still has these deficiencies.
6. Diagnosing content gaps
For example, your company sells insurance products. You have created various content on the website, ranging from topics on health insurance, education, life and accidents.
However, competitors apparently have a more comprehensive content structure. They have a category specifically aimed at beginners who have never had insurance.
You can find these gaps or voids when conducting an audit. So, you can also try to provide information that is superior to competitors.
7. Increase conversions
Apart from being educational, content marketing also has the goal of generating conversions. By conducting a content audit, you can evaluate what kind of content strategy is most effective for attracting the interest of target consumers.
How to Conduct a Content Audit
1. Define metrics and goals
Content audit is quite a time consuming process. So you can define what goals you want to achieve now and which metrics are most important to measure.
For example, you want to focus on improving SEO. So you can check link building, organic traffic and keyword ranking analysis.
2. Document the content set
There may be many types and forms of content that you need to audit, from videos, blogs, newsletters, Instagram posts, and more. The first step that needs to be done is to collect all the links so that the audit process can be documented.
3. Data analysis
Once the URLs are collected, you can categorize them according to the classification you want. You can group them by user persona, for example. If so, you can start analyzing right away based on predefined metrics and goals.
4. Define and execute an action plan
All the results of your analysis will be in vain if they are not followed up into an action plan. Keep in mind that action plans must be systematic with specific deadlines up to the PIC for each task.
This needs to be done so that improvements can actually be realized and the results can be seen more quickly.
Final Word
This is information about content auditing. If you want to maximize your content strategy, a content audit is a process you can't miss.
Apart from audits, there is also a process known as content quality control. This is an important step to avoid errors such as typos, relevance, and misinformation in the content created.
Related post: