If you want to increase brand awareness, then digital branding is an important strategy that can be done. This strategy helps brands build a consistent and memorable image. Of course, this can attract more consumers to your website and business.
So, studying this needs to be done to help your company attract potential customers. Curious what that means? Come on, see the following eTamu.id article to learn it!
What is Digital Branding? (Definition)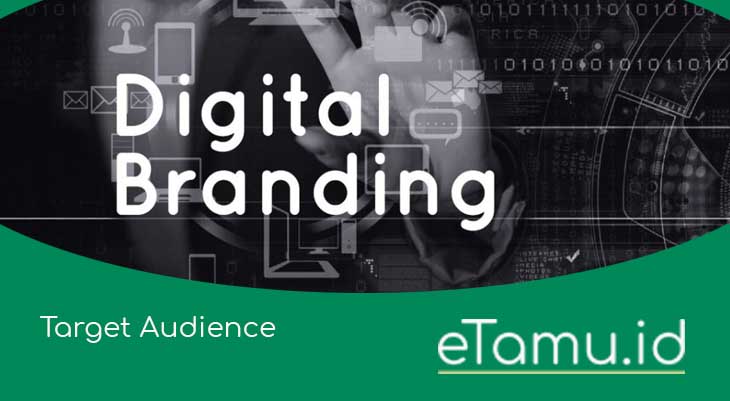 According to the Digital Branding Institute, digital branding is an activity to build a brand story and presence to consumers online. In this activity, there is usually consistent content across several digital platforms.
These branding activities help you build meaningful relationships with your target audience. In addition, these activities help a business build a reputation that can be trusted and supported.
Not only that, branding like this also increases brand recognition, which helps you expand your target audience and increase sales. Then, why is the presence of a brand in the digital world so important? This is because many people spend time on the internet.
What Are the Benefits of Digital Branding?
The large number of people using the internet makes brand interactions with consumers on various platforms and websites so important. That way, brands can convert them from audiences into loyal consumers.
The benefits of doing digital branding are as follows.
Helping you target your audience by finding specific consumer groups through popular online platforms such as Twitter, Facebook, Instagram, to TikTok.
Build connections with consumers because it allows them to "talk" directly to your brand. This connection also feels personal, because the platform used is also usually a medium for consumer communication with friends or family. As a result, you can turn your audience into loyal consumers.
Doing this can also help you go viral and reach a wide audience in no time.
Understanding The Difference with Digital Marketing
According to 99designs, digital branding focuses on delivering value to drive consumer loyalty and brand recognition. Meanwhile, digital marketing is more focused on finding new consumers and generating sales.
In digital marketing, brands will continuously launch advertisements in audiences. Regardless of whether they realize it or not. Meanwhile, digital branding focuses on seeking engagement from audiences and potential customers.
This branding activity focuses on building an online identity and audience positive feelings towards the brand, rather than encouraging people to make a purchase.
The 6 Digital Branding Elements
There are several elements that should not be forgotten when doing this. So, according to Indeed, here are some elements that need to be owned when doing digital branding.
1. Logos
A logo is a symbol or design that your brand uses to represent itself, its products or services. Paying attention to this is very important because the logo is the audience's first impression of your brand.
So, consider what people want to think when they see your brand logo. When creating a logo, consider choosing the colors and styles that can be used on the website, the content you create, and in your marketing materials.
2. Websites
Website is another element that needs to be owned in digital branding. Here, the website functions like a store in general. If consumers want to find out your location, hours of operation, product list, or contact information, they will visit your website.
Consumers will find your website through search engines where they expect to find information about you quickly.
So, make a website that is simple and easy to navigate. Keep design and brand consistency using a color scheme that matches or complements your logo.
Also keep your website pages short and to-the-point. Don't show too much information to users, because it can make them leave your website.
Your website must also have a crawlable link structure. Where humans and search engines can navigate to all the information on the website easily.
3. Brand Messaging
Brand messaging is what your business says and how you say it. This message should reflect what your brand does and believes in, and let consumers know that you are ready to meet their needs and wants.
A successful brand message must be able to answer the following questions.
What are you doing?
what are you fighting for?
why are you so important
4. SEO
SEO is also an important element in digital branding. SEO can maximize the visibility of your brand on the internet through search engine searches. Effective SEO can encourage audiences to visit your website. Of course, this can organically grow your digital brand audience.
To improve SEO, try to do keyword research and create content that is relevant to your topic and industry.
5. Social Media
Social media is an important element because having a presence there can help your digital branding activities. If your consumers use social media, then you need to be there too.
Customize each post made based on the platform. For example, if your brand has Instagram, then create a post that can attract likes, comments, and saves.
When using social media, be sure to follow.
make a specific schedule when uploading posts
interact with the audience in the comments column
respond to direct messages from the audience
track social media usage progress on each platform
6. Online Marketing
Online marketing is a type of advertising that uses internet resources such as search engines and websites to promote your content and services to potential customers. Since marketing is part of digital branding, it is important for you to include brand elements in your marketing materials.
To make an attractive advertisement, insert your logo and brand colors into it. Then, consider who will be interested in buying your product.
Final Word
That is some information about digital branding that you can learn. Doing this can help your brand to be easily recognized by many people in the digital world.
Well, apart from the information above, eTamu.id has prepared many articles about branding that you can read to add to your insights, you know.
Related post: