eTamu.id – Know what content marketing is and what a Content Marketer does. You've heard the term content marketing, but not sure what it means?
Maybe you are still wondering what exactly does a content marketer do and what skills must be mastered if you want to try a career in this field.
Don't worry, eTamu.id will discuss in depth all the things you need to know about content marketing below.
What is Content Marketing? (Definition)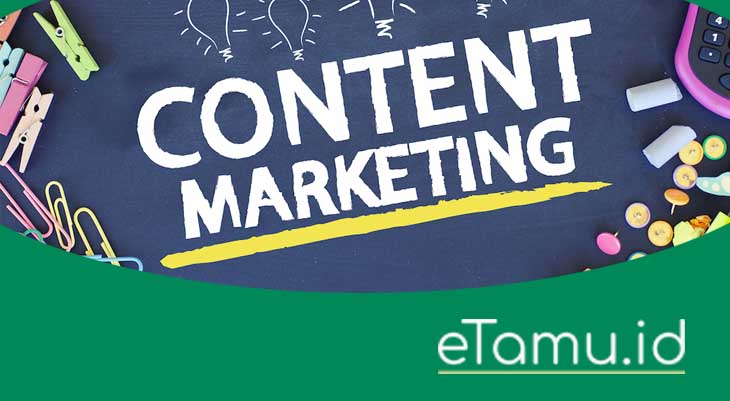 According to Forbes, content marketing is a marketing strategy for creating and distributing valuable, relevant and consistent content to attract the attention of the target audience.
However, content marketing is not just creating content for an information-hungry audience, you know! According to Neil Patel, content marketing also aims to build strong relationships with audiences over the long term.
Therefore, the content created must be relevant in order to create a feeling of need from the audience which ultimately has an emotional closeness to the content being created.
The simplest example is the creation of video content created by the Content Marketing Institute (CMI). In 2017, they became one of the biggest sources on YouTube for providing content in the form of statistical videos.
In fact, they are currently expanding their strategy through podcasts. The goal is to create a relationship with the audience in all media.
From this example we can see that CMI has been creating content that is consistent, close to the audience, and always relevant and on track for several years.
Why is Content Marketing Important? (Benefits)
In running a business, a strategy is needed to lure the target audience so they want to buy or use the products you offer. There are four stages in the buying cycle, namely:
1. Awareness
Audiences may be aware of the products you sell, but do they need your products? So, the job of a content marketer here is to build awareness, aka awareness that they need your product.
2. Research
After the audience is aware of your product and is interested in buying it, they will usually find out or research first. The research carried out can be in terms of the advantages of your product, its uniqueness, or from their own needs.
3. Considerations
After they research the product, they will think again before deciding to buy your product. Usually they will compare with other brands, for example in terms of price or quality. They will also consider which one is more profitable to buy product A and B.
4. Purchase
In this final stage, the audience finally decides to buy a product that suits their wants and needs. So, in content marketing, the main goal is to make the buying cycle into two, namely aware and buy.
Marketers want to expect the audience to go straight to the purchase stage without any doubts about the product.
In other words, this marketing strategy is very important to speed up the audience's process of buying or using a product and growing a sense of dependence on the brand.
Various Forms of Content Marketing
Still confused about what form to create content? Maybe the five examples of content below can inspire you further.
1. Infographics
Many people are hungry for information, but sometimes find it difficult to read data presented in long research or writing. Infographic trends that are currently often used by the media can be one solution.
Infographics can present complex data in an easy-to-understand form. Yes, one of the advantages of infographics is combining pictures and writing but the information conveyed remains to-the-point.
2. Websites or blogs
If you don't have a place to create content, maybe you can use a website or blog. On websites and blogs you can create articles that suit your target audience. Apart from creating articles that suit your audience, you also have to pay attention to the SEO.
SEO cannot be separated from content marketing. The reason is, a good SEO strategy will certainly invite a lot of traffic to your site or blog.
Also make sure your site or blog is pleasing to the eye from a smartphone. This is because the majority of internet users in Indonesia access content via smartphones.
3. Podcasts
Emerging trends must be utilized as well as possible. For example, a podcast that is currently hype in Indonesia. Some content creators or brands also take advantage of this opportunity to create awareness.
The topic can also be adjusted to the target audience you want to target. Podcast is one of the smart containers to replace radio.
Audiences can enjoy your content anywhere and anytime while doing other things. Don't forget, podcast content must always be relevant so that your audience remains loyal to your product.
4. Videos
Video is still an effective medium for content marketing, especially via YouTube. why? This is because the ease of access to YouTube is still in demand by people in Indonesia.
In addition, content in the form of videos will be easier to understand and enjoy. Make videos that are useful for the audience.
Don't let the videos you make only invite clicks because they sell sensations or controversies that can harm your brand image.
5. Books
If you are targeting a more serious target audience, you can take advantage of it by pouring ideas or information into a book. Content marketers publish a book not just wanting to increase profit coffers.
Precisely books can be a tool in the product marketing strategy, you know! The purpose of writing or publishing this book is so that readers know what business or brand is being built.
Books are one way to increase public awareness of the product being sold. In addition, publishing a book can be seen as proof that the brand is trustworthy.
Skills Required in Content Marketing
Interested in getting directly into the world of content marketing? So, it's a good idea to hone the abilities and skills needed by a content marketer which are described below:
1. Communication
Communication skills are very important for any job. However, in content marketing you must be able to hone your communication skills both verbally and in writing (verbal and nonverbal).
Why is that? In this job, you will face many people. The content created must be able to touch many people.
Not only about content and audience, you will also work in a team so good communication must be maintained so that there are no misunderstandings.
Learning how to communicate can even start from the way you write emails to clients or co-workers, you know!
2. Write
One form of content created in content marketing is writing. Writing can be in the form of articles, copywriting, status on social media, or video scripts.
You must be adaptable to write in a variety of styles to suit your target audience. For writing practice, you have to read a lot from various sources and examine which style is right for your product.
Practicing writing without reading various other sources will make your skills stagnate there. Look for as much inspiration as possible so you can always be full of ideas and work.
3. Tell stories
Podcasts or videos are a form of content that you can try in content marketing. So, to invite the audience to always watch videos or listen to podcasts, skillful storytelling skills are needed. If you have skills and talent in this field or want to hone it, take a public speaking class or radio class.
You also have to listen to a lot of radio, watch videos, or listen to other podcasts to know how to entertain your audience without visuals.
4. Sensitive
You must always be sensitive to the trends that are emerging at this time. Keep up with what's currently happening or popular with many people so your content doesn't look stale.
You also have to be creative in seeing current trends. Choose carefully which trends you can use to increase awareness of your product and which ones you don't need.
Final Word
That's eTamu.id brief explanation of content marketing, starting from the definition to the forms you need to know. In essence, content marketing is the process of creating and disseminating information that marketers can use to engage audiences.
This method is one of the most effective marketing strategies in this modern era. It is even often used by large companies to achieve their business targets.
Therefore, if you want to enter the world of marketing, first make sure that you have mastered the content marketing strategy in depth.
So, besides the explanation above, you can learn other information about content marketing on the eTamu.id Blog Content Marketing channel.
There, eTamu.id has prepared a lot of discussions about strategies, terms and tips on implementing a content marketing strategy especially for you.
Related post: