eTamu.id – Content pillars are things that must be known and mastered by professionals who want to get involved in the world of content marketing.
According to data from Hubspot, 40% of companies say that content marketing strategy is very important in general marketing strategy. Then, 80% of companies have actively used this marketing strategy.
However, according to The Content Strategist, there are still many who feel confused and don't know how to make content pillars and plan them properly.
In fact, determining and creating content pillars is very important because it can help a business increase its attractiveness and brand awareness rapidly.
So, how do you determine and create the right content pillars to suit your business and audience? If you are curious, come on, immediately look at the methods below!
What are Content Pillars?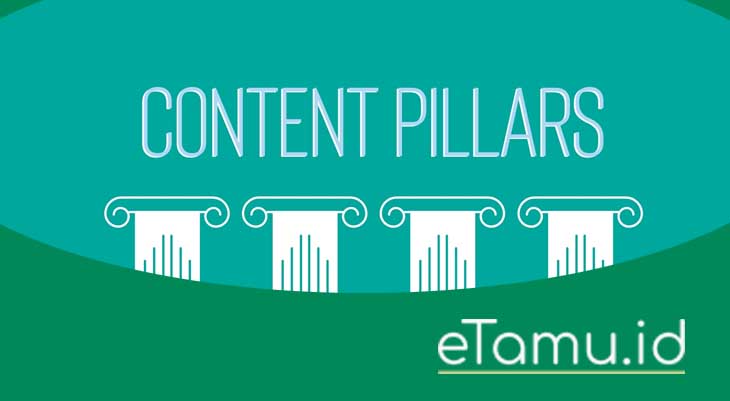 Quoting Semrush, content pillars are guides or pages that contain important information from the content strategy. The purpose of this content pillar is to provide comprehensive information so that readers can find all the information they are looking for in one place.
More simply, Sendible writes that the content pillars can be understood as a collection of themes that companies can use to create content.
This content pillar is also commonly referred to as a bucket, or in context and social media is a collection of content categories that are most relevant to the audience.
So, basically content pillars are an important part of a content marketing strategy containing a collection of themes, categories or clusters that serve as a guide for creating content.
Benefits of Content Pillars
Even though it looks trivial, it turns out that there are many benefits that you can get with content pillars, including:
1. Content creation is more planned
Even though there is already content planning, the presence of content pillars can help you find further content ideas. If you run out of ideas, you can easily recall what themes or categories of content you could create, then research new topics.
2. According to the needs of the audience
Content pillars are of course made not solely based on what the brand wants to make. Don't let the content you create doesn't match what your target market really needs.
Being flexible, you can also adjust the pillar content if the trend of customer needs or interests starts to change.
3. Optimizing SEO
Apparently, content pillars also have a big enough role in optimizing SEO. With content pillars, the structure of the website can be tidier, with a hierarchical arrangement and navigation.
The easier it is for visitors to navigate the company's website, the more search engines will give a good SEO score. This is because search engines scan a site as a whole, not one by one through the pages.
4. Increase conversions
Types of content created based on certain pillars have the potential to increase conversions. Especially if it is supported by the right and interesting CTAs.
If the content pillar is made correctly, the content marketing strategy can also be planned and executed more effectively.
5. Brand identity becomes stronger & more consistent
The content pillar is a guide so that the content that is created does not change too often. Audiences decide to follow your social media accounts for a reason, one of which is a strong identity.
If the content you create is inconsistent, they will potentially leave your brand. In addition, they will also find it more difficult to remember your brand later.
How to Create Content Pillars
For those of you whose work is not far from the world of content, the content pillar is something that you must master and should not underestimate. To be able to develop social media accounts and company websites, careful content planning is required.
So, this content pillar is a guideline that you can use to ensure that the content you create is in accordance with the company's branding and of course according to your target audience.
1. Market research
To be able to understand the needs of your target market, do market research in the right way first. This research can be done using various methods, starting from surveys or just using market research tools that are available free of charge.
2. Research industry trends
You don't want it, do you, if the content you create turns out to be outdated and no longer in demand by people?
So, after getting data about the needs of your target audience, doing industry trend research is also important because in the end, people will automatically follow changing trends.
Companies must also of course follow these changes so they are not inferior to competitors. Well, the content pillar is the main weapon as a differentiator between your brand and other competitors.
3. Competitor research
So, have you done market research and industry trends, but forgot to see what competitors have been doing?
There is a possibility that the content pillar that you create will not be unique, less interesting, and has been made by competitors before.
By doing this research, you can study the strengths and weaknesses of your competitors and formulate them into better content pillars.
4. Social media audits
Social media audit is an important activity to evaluate your social media accounts. Analyze what kind of content has performed well and not so well so far. It is very important for you to know exactly what followers like.
After that, you can immediately adapt your findings to the content pillar that you will create.
5. Start compiling content pillars
According to the Content Marketing Institute, there are at least 3 types of content in the content pillar:
Head term, the most common topic in the content category. Example: dental disease.
Core topic, core topic that helps clarify the context of the head term. Example: how to prevent dental disease.
Subtopic, contains a collection of topic assets that can make websites or social media content a complete reference source. For example: how to care for teeth, foods that damage teeth, and others.
Actually, there are no standard rules regarding the shape of the content pillar that you have to make. What is important, the content is complete and easy to use as a reference.
In addition, always make sure that the pillars that are made are in accordance with your brand and the needs of the target audience.
How to Determine Content Pillars
Content pillars are simply the main categories or themes that your brand will consistently discuss that will captivate your audience. These topics can later become a guide to make it easier to plan content ideas and determine the content that is most relevant to the audience.
However, before compiling a content pillar, you must first find out which themes are most suitable for your brand.
Later Blog writes that there are 3 effective ways to determine content pillars, namely:
1. Analyze trends and new news
The easiest and least costly way to determine content pillars is by doing independent research by analyzing current trends. With social media and watching the news, you can find out what is the subject of discussion or trends in your industry.
For example, your brand is the wheat processing industry. You can try to find out what themes are used by other processed wheat brands or similar competitors.
From this search, you might find that your audience likes themes such as product promotions and educational content.
These are things that you can make as the main theme of your content too. However, don't forget to explore whether the theme is also interesting for your own target audience.
2. Research what readers are looking for
If you already have a social media account or blog for your brand and are still looking for a theme for your content pillar. You can use this second method.
Apart from independent research, you can also use surveys or polls to ask your community directly what type of content they see.
That way, you will know for sure what content needs to be developed and prioritized for your business, not just copying what other brands are doing.
3. Look at the existing data
If you have researched the market segmentation of your business, you can use this data to determine the content pillars. Maybe you find that most of your content readers are office workers. From this data, it is possible to develop themes related to work life in the office.
If you don't have data like this yet, you can start looking for it with the help of tools like Google Analytics or Analisa.io.
How to Create Content Pillars
If you have finished determining the topic, now is the time for you to start compiling your business pillar content. The Content Marketing Institute also reports that there are 3 important steps that must be considered in preparing content pillars.
1. Determine the head term
First of all, you have to determine the head term or, according to Semrush, is the most common topic in the main theme that has been determined. The head term used must have a broad scope and usually only consist of one to three words.
For example, in the bone health industry, you might use a head term like "bone disease".
2. Find the core topic
After knowing several head terms, try to find the main topics that can clarify the context of the head terms.
Core topics generally consist of 4 to 6 words. If we continue from the previous example, the core topic for "bone disease" is something like "facts about bone disease" or "preventing bone disease".
3. Arrange sub topics
Finally, arrange some specific topics and also determine the format of the content to be designed. Topics like this are also known as sub topics.
Sub topics in search for SEO keywords are similar to long tail keywords. For example, you can use "foods that prevent bone disease" or "how to treat bone health from an early age".
Final Word
That's eTamu's discussion on how to determine and create content pillars. In short, determining and compiling content pillars is not easy and may take a relatively long time.
However, if you have got it, you already have a clearer picture of the content that you should prioritize for your content marketing strategy.
So, to help you in compiling content pillars, eTamu has prepared a free template to document it. Practical, isn't it! That way, you don't have to bother creating your own content pillar documents.
Related post: