The target audience or in Indonesian it is referred to as the target audience is a term that is often equated with the target market (target market). However, the two are quite different things. Nevertheless, both are equally important to identify.
Then, what exactly is the target audience? What effect does it have on the effectiveness of the marketing strategy? If at this time you are still not sure what the target audience for your business is, how do you determine it?
Check out the following eTamu.id discussion to find the full answer!
What is Target Audience? (Definition)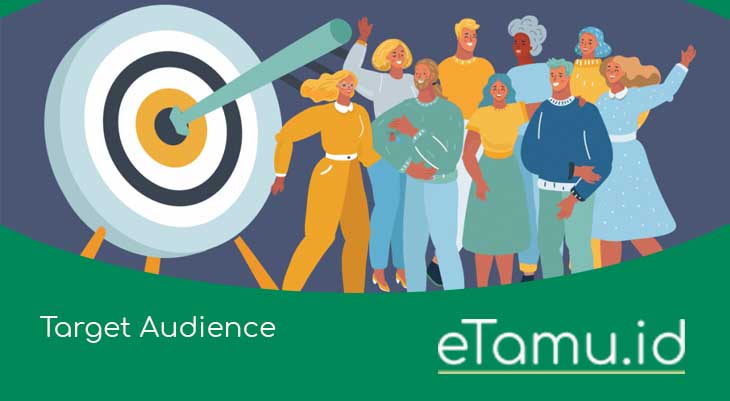 Reporting from The Balance Money, the target audience is a group of people with certain characteristics who have the potential to become consumers of a business.
Usually, the target audience has the same demographic characteristics, ranging from:
age
gender
location
educational background
economicstatus
Why is the target audience important to identify?
The more specific your target audience is, the more effective your campaign or advertising strategy will be. In order for the budget and resources allocated for marketing to be on target, you need to understand how to identify the right target audience.
Difference between Target Audience and Target Market
From the definition above, you might feel that this target audience is very similar to the target market. According to Indeed , there are at least a few key differences between the two.
1. Group size
The target audience is a group of people that is more specific than the target market. The target market is the entire group of people you want to offer your brand's products or services to. For example, your target market is men & women aged 35 and over who live in big cities.
Meanwhile, the target audiences is a more specific group, for example:
men & women aged 35 years and over
live in big city
have income above 50 million one month
interested in taking high risk investments
2. Possibility to Buy
Both the target market and the target audiences are groups of people who are most likely to need your product or service. However, the target audience is a more specific set of people who are interested in buying.
That's why marketers must prepare promotional materials that can make them more confident to buy.
3. Use of terms
The term target market is definitely used in the marketing field. On the other hand, the term target audiences can be used for purposes other than marketing or matters relating to purchasing a product or service.
In the film or book industry, for example, the target audience is a group of people who are judged to like the work. So, connected interactions between target audiences and products are not only limited to purchase transactions.
Tips How to Determine Target Audience
Reporting from Neil Patel and Marketing Evolution, the way to determine the target audience is as follows.
1. Use Data from Multiple Platforms
To find out who your target audience is, try checking the profiles of people who interact with your brand on various social media.
If they are interested in interacting with the brand, they may indeed be your target with a high chance of buying the product or service offered.
However, some of your target audiences may not be as active on social media. So, don't just stick to one platform, OK? Also look at website visitor data and people who have created an account or bought have your product even just once.
2. Identify Their Pain Points
Customer pain points are all kinds of difficulties that your target audience is trying to overcome, including obstacles in making a purchase transaction.
Here are some examples of consumer paint points for skincare products:
Haven't understood what their skin needs.
Want to find 1 product with multiple uses, for example a sunscreen that also functions as a moisturizer.
Already interested in the brand but the steps to purchase on the website are quite complicated.
By identifying the pain points above, you will know what messages must be conveyed to the target audiences and what improvements must be made in terms of products.
Well, you can't represent them to identify these pain points. So, do research using various methods in order to understand the needs of your target audiences more credibly.
3. Find Out Their Sources of Information
The next step to determine the target audience is to find out their preferences for places and how they obtain information. Is it through social media or blog articles? When it comes to social media, which platform is their choice most often?
This section is very useful when you want to optimize your content marketing strategy. The reason is, one of the factors that influence the effectiveness of the message conveyed is the selected channel.
4. Understand the Benefits or Advantages They Are Looking For
After pocketing the data above, now is the time to identify the advantages of your product so that it can influence the target audience's purchasing decisions. Everyone will be happy when they find a solution to the problems they have been facing.
However, you are not alone in this industry. There are many other brands that are trying to solve the same consumer problem by offering similar solutions.
Therefore, think about what benefits your target audience is trying to get from competitors but they haven't found them?
5. Understand What Is Hindering Their Buying Decision
What makes them not interested in buying? Apart from thinking about positive things like the benefits and advantages of the product, answering negative questions like this will also help you further refine your existing strategy.
Try to find out what makes them not interested in your product, such as:
unwieldy packaging
products that do not have BPOM permits
slow and unfriendly social media admin response
too many negative reviews and unsatisfactory brand response
Similar to the process of identifying pain points, this one question also requires deeper observation and research.
6. Find Out The Figures They Follow
In the world of skincare, for example, who are the role models whose words they often trust? Are they beauty influencers with adequate knowledge and experience, or product reviewers who often give honest reviews?
The next factor that influences the target audience's decision is the key opinion leader. So, this question will make it easier to find key opinion leaders that suit your target audience's preferences.
7. Create Personas
If you are still having trouble determining your target audience through the 6 steps above, try to create a buyer persona. Personas are custom profiles that describe the different types of your target audiences in more detail.
The components are also more complete than the target audiences data, namely:
name
profession
age
purchasing power
hobbies
lifestyle
interest
behavior
shopping habits
Internet access habits
So you can literally envision your ideal customer. That way, all marketing strategies that are implemented have a greater chance of reaching the right person.
Final Word
Thus the discussion about the target audience. In essence, the target audience is a group of people who are more specific and are considered to have an interest in buying your product or service.
Want to learn more about a similar topic? Come read more articles on the eTamu.id Blog!
There is a collection of articles on how to reach the target audience with various strategies and tools. So, you can enrich existing strategies to make them more targeted.
Related post: