eTamu.id – Currently, the relationship between companies and consumers continues to change and develop. Thus, one strategy to develop these relationships is interactive marketing.
The relationship in question is formed because today's consumers expect brands to be responsive at all times. Not only that, consumers also prefer brands that understand and engage with them.
Well, this marketing strategy can facilitate you to form a two-way relationship between brands and consumers. Thus, the relationship between brands and consumers is even more meaningful.
Come on, find out more about what interactive marketing is in the following article!
What is Interactive Marketing?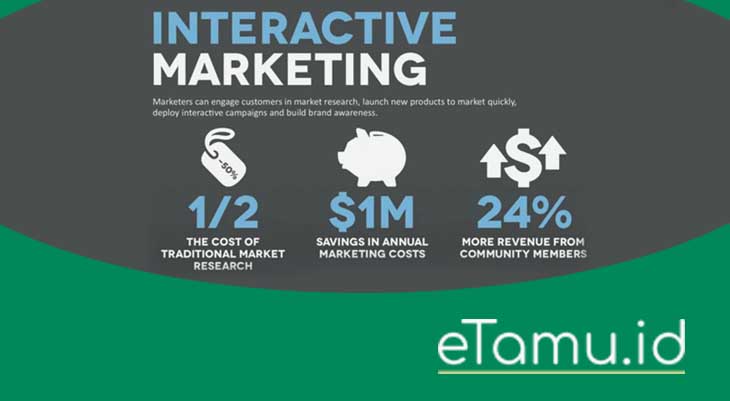 Quoting G2 , interactive marketing is a customer-centric marketing strategy that focuses on one-on-one interaction and consumer communication.
Here, the brand is very dependent on the actions taken by consumers in order to give the right response.
There are also companies that can determine the right response to give to consumers based on data, preferences and habits.
Thus, the purpose of this type of marketing strategy is to form interesting interactions between brands and consumers personally.
Successful interactive marketing requires comprehensive data analysis to understand and predict consumer behavior.
Types of Interactive Marketing
Knowing the various types can help you determine what kind of content is suitable for running interactive marketing.
Well, paraphrasing Hubspot, here are several types of interactive marketing.
1. Interactive videos
Videos are a great way to explain a topic or entertain an audience. You can engage your audience with the videos you make by adding a CTA that invites them to subscribe or leave a comment.
That way, the audience can have a conversation with the brand or each other directly. Using interactive video can also give users the choice to define their own experience.
2. Quizzes, surveys and polls
Quizzes and surveys are a type of interactive marketing because they allow audiences to interact with brands, especially on their websites. With quizzes, you can teach consumers new things about themselves.
Not only that, the quiz results that consumers get also encourage them to share them via social media or other forms of media. Of course, it helps you reach a new audience without having to try too hard.
On the other hand, polling can also attract attention and encourage engagement from consumers because it allows them to provide instant feedback.
Many people participate in polls to see if their responses resonate with those of others. Not only that, polls can also help you strengthen relationships with consumers because it allows them to share their opinions.
3. Personalized content
Another type of interactive marketing is personalized content. This can range from mentioning a consumer's name in an email to curating specific ads that are targeted to meet their needs.
By giving a personal touch, it gives the impression that you are speaking directly to them.
4.  Interactive storytelling 
Interactive storytelling can help you create interesting and engaging content. To make it, you can try using infographics, short videos, graphics and other visual aids.
This can "break up" articles that are too long so that the audience who reads your content doesn't get bored easily.
5. User-generated content (UGC)
UGC is also a type of interactive marketing that is simple but effective. Audiences have the opportunity to share their own content. You can also curate content from your audience using things like hashtags on social media.
This will certainly attract the attention of your audience. Because, your audience and potential customers can see how they will be represented by your brand. This will certainly encourage them to become consumers of your brand.
Benefits of Interactive Marketing
So, quoting Indeed, here are some of the benefits you can get from interactive marketing.
Increased consumer satisfaction : Doing interactive marketing allows you to anticipate consumer needs. So, you can create a product or service that can fulfill it.
Increased conversion rate : Because this marketing strategy is very customer-centric , you can reach your ideal customers relatively easily. This will certainly increase your conversion rate and leads.
Increased sales and revenue : Interactive marketing attracts and converts your audience into consumers because you market your product or service based on their wants and behavior. That way, you can meet their needs. This will certainly increase your sales and revenue.
Reducing risk: Interactive marketing reduces the risks that arise when trying to market your product or service to the public because you have done thorough research before hand. So, you can find the right consumers for the products and services being marketed.
Reduce marketing costs : Interactive marketing allows you to build loyal consumers to your brand . This can also indirectly reduce your marketing costs. Because, the cost of maintaining loyal customers is lower than converting new ones.
Those are some things you need to know about interactive marketing. In essence, this strategy can help brands build a very close relationship with their consumers.
So, this strategy can be considered for those of you who work in the marketing field.
Apart from information about interactive marketing, you can find out more about the world of marketing by reading a collection of articles from eTamu.id that discuss it.
There are various information, tips and tricks about marketing that can help you as a marketer to be successful in this field.
Related post: