The various strategies that eTamu.id has prepared aim to develop the presence of non-profit organizations on social media. So, the content that you create can be seen by many people.
So, in this article, eTamu.id will provide several social media strategies that you can implement for non-profit organizations. Check out the following article, come on!
The 8 Social Media Strategies for Nonprofits Organization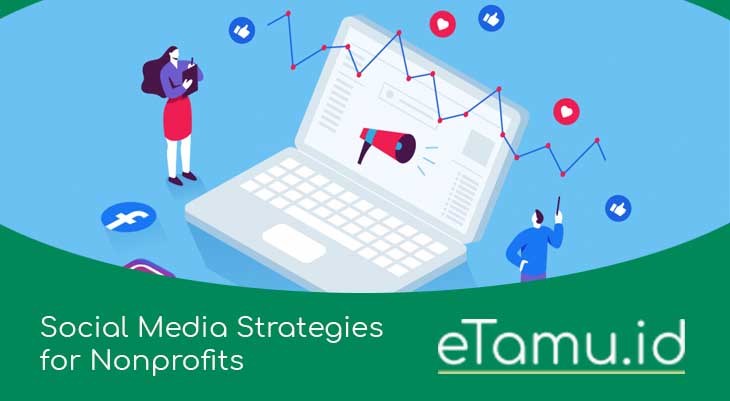 1. Add a donate button
If your nonprofit accepts donations, then adding a button that allows people to do so is a strategy to try. Many social media platforms allow nonprofits to add donate buttons on their social media pages.
In fact, you can also add a donate button to posts that have been shared on social media. Apart from donations, you can also try adding buttons that contain links to websites, other social media platforms, and newsletters.
That way, people can connect to you more easily. Especially if they have questions about donations.
2. Create a content schedule
Another strategy to consider if you are responsible for a non-profit organization's social media is creating a content schedule. Quoting Constant Contact, having a schedule ensures posting content on social media remains organized and consistent.
You can also try to anticipate the important events that will be carried out by the organization. That way, you can prepare content about this important event in advance.
3. Tell about other people
Telling about other people in your posts can be one good strategy to employ for a nonprofit's social media accounts. In fact, a study from Twitter found that videos that show a person in the first few frames have twice as much retention.
Not only that, a study from the Georgia Institute of Technology and Yahoo Labs also reported that photos containing someone's face gave 38% more likes and 32% more comments.
So, you can try to tell your audience about who is behind your non-profit organization and why they run it. You can also tell about the people and communities that the non-profit has supported.
4. Create shareable content
Another important strategy for social media non-profit organizations to implement is to create shareable content. Shared content increases the nonprofit organization's exposure to its audience.
So, create content that is of value to the audience so they are encouraged to share it with their friends or followers. You can also create this content accompanied by attention-grabbing visuals such as infographics for videos.
5. Make a call to action
Indeed says creating content with a call to action can encourage people who view it to participate in a nonprofit's mission. So, you can consider creating informative content about the goals and mission of your non-profit organization.
That way, the audience will be encouraged to participate in and support non-profit activities. However, the call to action is not limited to that. Because, asking the audience to share the content that you have created is also included in the call to action.
6. Launch a campaign using a hashtag or hashtags
Another strategy you can use to make your nonprofit organization's social media work effectively is to launch a campaign that has hashtags. Yes, you can invite your audience to make certain posts with special hashtags.
These hashtags can help you reach a wider audience while conveying important information. For example, your non-profit organization is engaged in turtle conservation.
So, you can make a post with a photo showing your activities in saving turtles plus hashtags like #SaveTheTurtles.
7. Create social media policies and guidelines
Quoting Hootsuite, creating policies and guidelines when using social media on non-profit organization accounts is an important strategy to implement.
That's because these policies and guidelines can help you build a structure while maintaining the flexibility of your nonprofit's social media accounts.
Not only that, these policies and guidelines can also help newly joined people assigned to manage the organization's social media accounts.
Even so, according to Hootsuite, these policies and guidelines must contain;
contact information as well as the roles of each team member
security protocol
crisis communications plan
guidelines for how staff should behave when managing organizational accounts
organizational style and brand voice
a guide when receiving a negative message
tips and tricks when managing social media
studyable materials
8. Select various platform options
WildApricot says it's important for you to choose from a variety of social media platform options. This is because the more platforms you use, the wider the audience you can reach.
Keep in mind that you don't need to always create different material content on every social media. If you are not sure which platform to use, consider the following;
social media platforms used by team members
created content type
the platform used by the target audience
These are some of the strategies you can use to manage a nonprofit organization's social media accounts. In essence, you can run this strategy so that your social media activities can achieve predetermined goals.
So, you can find out more about social media marketing by reading a collection of articles from eTamu.id that discuss it. There is information, tips, and tricks that you can do so that your brand campaigns or activities on social media run effectively and efficiently.
Related post: