eTamu.id – At the end of this year, marketers must start preparing and learning the best content marketing tools for 2023. Because, even though content marketing is still one of the most popular marketing strategies, using it is not an easy matter.
Over time, more and more companies and marketers are taking advantage of this strategy. Without the right tools, your marketing efforts can be hampered and eventually lose to your competitors.
So, so that this doesn't happen, here eTamu curated 10 content marketing tools that are predicted to boom next year especially for you.
The Best 10 Content Marketing Tools in 2023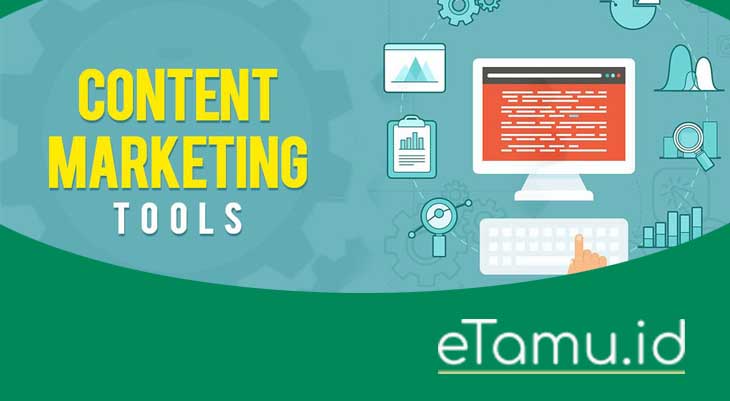 1. BuzzSumo
The first content marketing tool that marketers must master in 2023 is BuzzSumo. For those of you who don't know, BuzzSumo is an all-in-one platform that allows its users to comprehensively, intuitively and easily create content marketing strategies.
The main focus is on well-known social media such as Facebook, Twitter, Instagram and Pinterest. With this tool, marketers can see the most popular articles shared on the company's official website and social media.
It is also able to monitor the most effective types of content to engage the company's target audience. Well, you can learn the complete features in BuzzSumo in this article. In it, eTamu has provided a complete explanation and how to use it, you know!
2. Ahrefs
The next content marketing tool that marketers need to take advantage of in 2023 is Ahrefs. In fact, this one device has been popular since 2020. However, its popularity has not decreased, and will instead boom again in 2023.
According to No Good, this is true because Ahrefs is able to analyze competitors' performance with the site explorer feature.
Not only that, marketers can also get inspiration for keyword ideas, or learn the best performing content from the tools provided by Ahrefs. These tools can even track website ranking progress with their rank tracker feature. Interesting right?
3. SEMrush
SEMrush is another content marketing tool that is predicted to be relevant in 2023. It is one of the most popular tools that can help marketers improve SEO quality by conducting competitive research, looking at competitors' keywords and other activities.
SEMrush's backlink analysis feature, tracking site rankings, and analyzing overall SEO performance is also considered one of the best. SEMrush alone is able to provide a unique look at site metrics, which is useful for content marketing and paid advertising strategies.
4. Google Trends
Even though it has many competitors, Google Trends is still the most important content marketing tool for 2023. According to Impact Plus, the simplicity of the UI and features belonging to Google Trends cannot be imitated by other devices.
It is an invaluable tool for comparing keywords and seeing higher search volumes. It is also effective for capturing topics in an up-and-coming corporate niche. Google Trends can also be used for free, you know!
So, so that you can use it optimally, first learn all about Google Trends in the article that eTamu has summarized for you. In it, there is an explanation of the best features and steps to take advantage of these tools. Come on, read the article right now!
5. Notion
The next content marketing tool that marketers need to master in 2023 is Notion. This one tool is actually a flexible project management tool. Marketers can use Notion to record marketing strategies, meeting discussions, and content compass outlines for blog articles.
Uniquely, Notion provides features that can encourage productivity and collaboration within teams. Therefore, this tool is considered as one of the best tools that can be used by marketers who work remotely.
So that you can use it effectively right away, see eTamu' explanation about Notion in this article. In it, there is an explanation of the features and how to use them properly, you know!
6. Feedly
Feedly is the next content marketing tool that is predicted to boom in 2023. Using advanced AI technology, it can intelligently filter content and topics that are relevant to the company's niche.
It is also capable of distilling valuable insights from multiple sources, including news sites, blogs, Twitter and other platforms. Feedly can also organize, curate, and share insights from key industries that marketers sometimes find difficult to reach.
Feedly can also be used for free by all professional marketers. Pretty interesting right?
7. Statesman
If you want to design a content marketing strategy that is supported by data, Statista is a must-use tool in 2023. According to No Good, it is one of the best choices for marketers who want to find topics and data from trusted sources.
Statista itself is considered very useful especially for B2B marketers. Why is that? Because, he encourages marketers to take advantage of data points to form opinions and convey messages to prospects.
Statista is able to extract data from a variety of credible sources including market research, scientific journals, industry publications and other databases.
8. Google Analytics
Just like in previous years, Google Analytics will be a content marketing tool that marketers should use in 2023. The ability of this tool to track, measure and analyze website performance is unmatched by its competitors.
It also serves as the center of all data relevant to the website. As a result, Google Analytics enables marketers to make more strategic decisions. There are tons of useful metrics and data points in this tool. You can learn more about it in Glint's summary of Google Analytics.
In it, eTamu has explained about features and effective ways to use Google Analytics especially for you. What are you waiting for? Come on, read the article now!
9. Outgrow
According to Software Testing Help, the content marketing tool that must be used by marketers in 2023 is Outgrow. Outgrow is a great lead generation tool. It has a library of features, templates and other documentation that can improve the quality of the company's strategy.
Not only that, Outgrow can also speed up the prospect qualification process and increase customer engagement. Qualified prospects at a low cost can also help companies convert with this one tool.
10. Hemingway
The last content marketing tool that marketers should learn in 2023 is Hemingway. This application will encourage marketers to evaluate the quality of their work carefully.
It can also inform content value by looking at sentence complexity, passive language, and excessive use of adverbs. Simply put, Hemingway is perfect for marketers who are focused on blogging and other copywriting needs.
Final Word
Those are the ten content marketing tools that marketers must master by 2023. In essence, the collection of tools above is expected to facilitate business entity marketing efforts in the next year.
As a result, as a marketer, you will be encouraged to understand how to use these tools properly. Therefore, spend your free time to master the various devices that eTamu has displayed above.
If it's too difficult, don't hesitate to ask your co-workers or superiors for help in the office, OK?
Related post: