eTamu.id – Content marketing trends in 2023 will likely require marketers to think harder in formulating better content strategies.
There are many opportunities for innovation from technological advances and variations in content forms that are now increasingly attractive.
But with so many variations, marketers must finally consider more alternatives to find the most suitable content strategy for the brand.
What will the trend of the world of contention be like in the next year?
Content Marketing Trends for 2023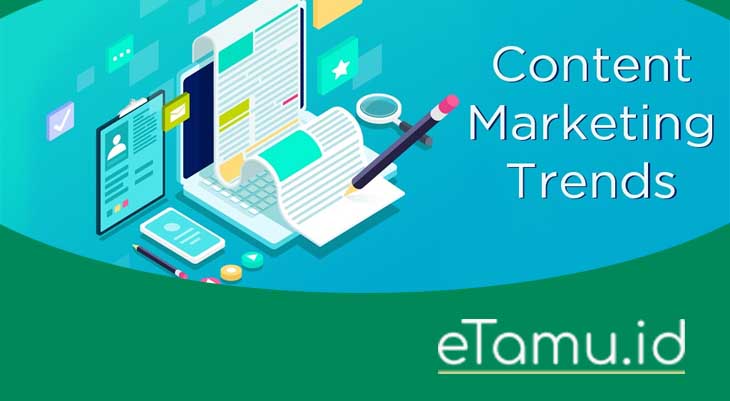 Immediately, let's look at the following eTamu.id discussion!
1. Ecommerce
E-commerce is predicted to grow rapidly in the next year, considering that today's buyers are increasingly prioritizing a practical and easy shopping experience. This e-commerce growth needs to be maximized by retailers to attract as many buyers as possible.
In order to compete with other retailers, you need to create a content marketing strategy that can support your sales in e-commerce, for example:
live shopping promotional content
twin date promotional content
free shipping promotional content
Currently, more and more brands are collaborating with influencers not only to create content on social media, but also to promote their products live with them.
2. Video content
Video content is now increasingly popular and is considered to continue to color content marketing trends in 2023. Today, brands compete not only in terms of product quality, but also in how well they can capture consumer attention.
Well, this video-shaped content tends to attract the user's attention more easily in just the first 6 seconds. Moreover, videos can highlight products that require a clear visual depiction.
Apart from being easy to attract attention, video content is also more engaging and the level of virality or potential to become viral is very high.
3. SEO
Even though video content is considered easier to absorb, traffic from search engines still contributes the most traffic to a brand. Video content is suitable for conveying information in an interactive, entertaining, solid but easy way to digest.
Meanwhile, for more detailed, complete and credible information, people usually prefer to look for answers through search engines. That's why, marketers still have to maximize this SEO opportunity to increase brand awareness or even generate conversions.
4. Podcast
The next content marketing trend for 2023 is audio content. Reporting from The Drum, the increasing popularity of this podcast makes marketers need to make a strategy on how to insert advertisements in the middle of a podcast that is still interesting to listeners.
This is motivated by the variety of podcast genres available and are predicted to be even more diverse in the future. Apart from the strategy, you also need to consider the best way to measure the success of the strategy.
5. Data & privacy
Google will stop using cookies from third parties until 2024. This aims to give companies more time to create digital ecosystem innovations that are safer for consumers.
The increasing urgency for consumer data protection forces marketers to ensure that their websites are able to comply with existing guidelines. Consumers will voluntarily provide their data to companies if they feel that the website is trusted.
As a result, you not only need to focus on creating a content marketing strategy that highlights product advantages, but also the company's compliance with respecting consumer data.
6. Analytics marketing
After preparing a content marketing plan, you also need to improve your ability to evaluate the strategy. One of them is by utilizing various analytical tools. So, content marketing trends in 2023 will not be separated from marketing analytics.
Google Analytics is a tool that is widely used by digital marketers. Reporting from Web Fx, in July 2023 Google will launch Google Analytics 4.
This one tool will make it easier for you to interpret data because it will be integrated with Google Optimize, Google Merchant Center, and bigQuery.
7. Influencer marketing
In working with influencer marketing, the challenges faced by marketers are not only choosing the right influencers. Influencers or Key Opinion Leaders (KOL) will usually only create content according to the brief provided by the brand.
Thus, it is you and your team who need to formulate the concept, message, and objectives of the campaign which will be passed on to influencers.
Be careful because currently users are increasingly sensitive about honesty, transparency, and the tendency for black campaigns involving influencers.
8. Metaverse
The combination of the world of metaverse and gaming is very suitable for brands that focus on targeting Gen Z and Gen Alpha consumers. That is why it is assumed that content that smells of metaverse and games will be able to attract their attention.
Examples of brands that have utilized the metaverse in their content marketing strategy are Nike and Adidas. As a marketer, you should research from now on what marketing opportunities can be optimized from the development of the metaverse and game world.
Final Word
That's eTamu's explanation of content marketing trends for 2023. Don't forget to do in-depth research to adapt these trends to your brand's needs.
Apart from the trends above, there are lots of other content marketing inspirations that you can find on the eTamu.id Blog for free!
Starting from video, audio (podcast) based content strategies, to SEO articles. By studying it, you can get new ideas and perspectives to optimize existing strategies.
Related post: