eTamu.id – Email Marketing Trends: As a marketer, of course you already know about the importance of sending email marketing. Therefore, ahead of 2023, you need to know various trend predictions in the field of email marketing.
Knowing various trend predictions for 2023 will make you several steps ahead of your competitors. Not only that, you can also get the most out of email marketing when you find out what things will be popular in 2023.
The 6 Email Marketing Trends that Marketers Must Implement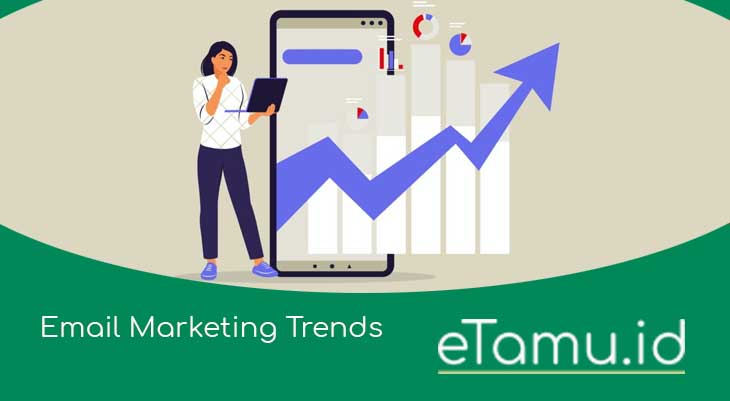 So, in this article, eTamu will provide some information about things that will become popular in 2023 in the field of email marketing. Check out the following article, come on!
1. Email Personalization
One trend that is predicted to persist and will continue to become popular from email marketing in 2023 is email personalization. This strategy is one of the best ways to get consumers to interact with the emails you send and check what is offered in them.
In fact, data from Campaign Monitor shows that personalizing email marketing can;
increase email open rate by 42%
personalized email subject increases open rate by 26%
increased average clickthrough rate (CTR) by 14%
increase conversions from emails by 10%
Please note that your audience gets a lot of emails from various companies. Of course, they won't open an email they think is irrelevant.
Well, this email personalization can get the attention of your audience and make them interested in opening the email you sent.
2. Interactive e-mail
The next trend that will be popular in email marketing in 2023 is interactive email. According to Web FX, interactive email has various elements that audiences can "play" without having to visit another web page and leave their inbox.
Some of these elements, according to Web FX, include;
a carousel of images that users can swipe
videos that users can play
games that users can play
Of course, the presence of several interactive elements can encourage the audience to engage in the email. Thus, this makes you superior to competitors.
3. Application of AI
Implementing AI or artificial intelligence will also become a popular trend in the field of email marketing in 2023. This is because AI can help marketers make even better decisions. You can use AI to provide a better experience for your audience.
Not only that, NetHunt thinks that AI can also help you do the following;
help you in writing the email subject
allows you to send personalized emails to every prospect
analyze thousands of data to build effective email marketing campaigns
clean email list
form mailing lists
identify trends and changes from your audience
4. No longer using open rate as a KPI
The next trend in the field of email marketing in 2023 that you need to pay attention to is not using open rate as a KPI. This is because there are some changes to privacy settings that can affect how marketers track the performance of their campaigns.
So, you as a marketer need to adapt to this change.
One of the most significant privacy rule changes from Apple. Where, these changes prevent marketers from tracking their user information, such as;
When does the user open the e-mail?
where the user opens the email
What device does the user use to open the email
activity on the device used to open the email
As a result of this change, of course the open rate metric is not very reliable. This makes metrics like clicks and clickthrough rate even more important to track.
5. Give Storytelling to the audience
Web FX says another trend that will be popular in the field of email marketing in 2023 is storytelling to audiences. Storytelling is becoming increasingly important as consumers want to feel more connected to the brands they buy.
Consumers want to know who they are buying the product from and what that business means. So, to fulfill this need, you need to tell about your company and show your brand personality in an email newsletter.
By giving storytelling you can also increase engagement and build better relationships with your consumers. This can make them loyal consumers and advocates for your brand.
6. Focus on users who use mobile phones
Providing a good experience for mobile users is also the next trend in email marketing in 2023. This is because it is based on data from Google, as many as 71% of people use their smartphone to open email.
Of course, this makes marketers need to ensure that their email can be seen and functions correctly on their audience's smartphones. Therefore, make sure to use a responsive design in your email so that it can adapt to the device that consumers are using.
Not only that, don't let your email look messy and also pay attention to the number of copies listed in it so consumers don't have to scroll for a long time.
Final Word
Those are some of the email marketing trends in 2023 that you as a marketer need to pay attention to. Of course, it is not only this field that is predicted to have various trends in the next year.
Because, various aspects of the world of work will also emerge new trends along with the development of technology to the habits of users or audiences.
So, so you don't miss information about trends in the world of work, you can check out eTamu.id' collection of articles that discuss trends in 2023.
Related post: