eTamu.id – There are many ways that marketers can do to increase their brand engagement on social media. One way is to do Facebook live streaming. Launched since 2016, Facebook Live has been warmly welcomed by all marketers.
How not, reported from Hootsuite, more than 2 billion people have watched the video on Facebook live. In another sense, Facebook live streaming is a promising field for marketers to tell their brand and create relationships with customers in real-time.
So, what does it mean, anyway? What are the tips and ways to do it? Without further ado, come on, see the eTamu discussion below!
What is Facebook Live Streaming?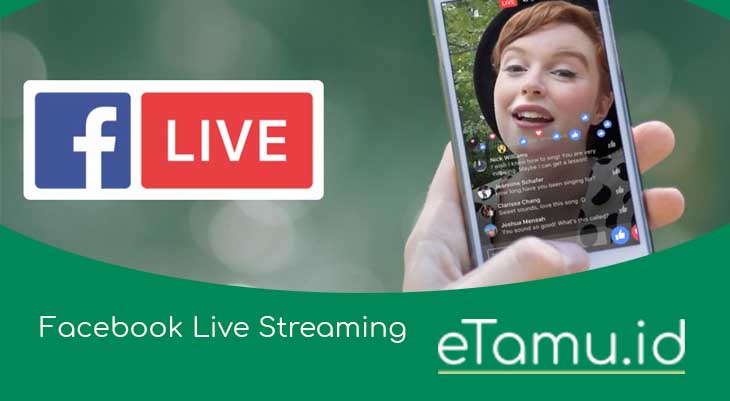 Before discussing how to use it, let's discuss its meaning first. Reporting from Hubspot, Facebook Live is a streaming feature from Facebook that allows users to do live video in real time using a laptop or cellphone camera.
The presence of this feature makes marketers have other alternatives to build their brand in front of an online audience. Plus, Facebook live also helps marketers to maintain a relationship with the audience.
So, every time there is an important moment from a company, you can display it via Facebook Live so that your audience can see it. Unfortunately, there are still many who are not aware of the benefits of this feature.
In fact, according to Hootsuite, Facebook Live videos get six times the engagement compared to regular Facebook videos. This means that doing an automated Facebook Live can boost your content in Facebook's algorithms.
How to Use Facebook Live Streaming
From the explanation above, we agree that Facebook live streaming plays an important role in marketing activities. So, roughly, how do you make a live stream on Facebook? In simple terms, this practice can be done in stages that are not too difficult.
To make it easier to understand, below eTamu will explain the steps:
1. Click live broadcast
If you open via the Facebook application on your mobile phone, all you have to do is click the "Live Broadcast" button on the homepage, right below where you made your post.
You can also do live streaming via desktop. Keep in mind, when live streaming you must allow Facebook to access your video and audio in order to run.
2. Select an audience
After that, select who you want to show the live video to. Do you want to be seen publicly or certain people. To do this, just click "To", then select the audience according to your wishes.
3. Write a live description
Don't forget to write a video description below. This is done to inform the audience about your agenda in the live video.
Reporting from Hubspot, write a description that attracts attention so that people are more interested in listening to your discussion. Using interesting copywriting is the main key in writing descriptions.
4. Add people, location, and filter tags
Add tags of people who are in theFacebook live stream. If needed, you can also add a location. You can also use the filters provided by Facebook.
5. Click start live video
After everything is set properly, all you have to do is click the blue button "Start Live Video" to start live streaming. When it's finished, you can also download and post your live streaming results to the homepage.
Tips for Doing Facebook Live Streaming
So, now we know what Facebook live streaming is and how to make it. Are you ready to start live streaming from now on?
Before that, you have to know some important tips for live streaming to attract the attention of your audience. Moreover, if your goal is to build a brand.
What are the tips? Below eTamu will give it to you:
1. Make a plan
Before doing live streaming on Facebook, you should make a plan regarding this. What is your goal for live streaming? What topics do you want to talk about? What kind of content do you want to show the audience?
Answer all these questions properly. If necessary, make notes about your series of live streaming events. That way, you won't be confused when the live streaming takes place because you already have a plan from start to finish.
2. Check the internet connection
Before doing Facebook Live, make sure the internet connection is running safely. Don't let your live streaming be interrupted just because the internet is unstable.
3. Introduce yourself
At the beginning of the video, try to keep introducing yourself to the audience and explaining what you mean by live streaming.
If necessary, write a neat opening draft, such as 1 minute for introductions, 2 minutes for ice breaking, then a few minutes ahead just start the discussion.
Make sure to create a fantastic opening so viewers don't get bored looking at it and potentially leave the video.
4. Don't be afraid to be wrong
We will never know what will happen during live streaming on Facebook. There may be errors, such as camera shake, pronunciation errors, and so on.
If something goes wrong, don't be afraid. Make it look natural. That way, the audience won't realize that it was a mistake.
5. Invite the audience to share the video
In order for your content to increase in the Facebook algorithm, don't forget to continue to invite viewers to share live streaming videos with those closest to them.
This will help you reach more and more audiences and increase your Facebook marketing activities.
Final Word
This is an explanation of Facebook live streaming along with tips and ways to do it. For those of you who haven't used this feature for marketing purposes, it's best to start considering it from now on.
Because, Facebook is one of the social media with a large audience today. You can also expand your marketing and branding strategy by reading articles from eTamu, you know.
There are tons of articles about powerful social media marketing tips that you can get for free.
Related post: