eTamu.id – Whether you realize it or not, live streaming via YouTube is a great strategy to increase audience reach, as long as it's done with the right tips. It's undeniable, most audiences now prefer watching videos to reading blogs.
In fact, according to Live Stream , 80% of viewers prefer watching live videos to reading blogs. So, of all platforms that provide live streaming, YouTube holds a figure of 70% as the audience's favorite platform, according to Live Stream.
With these figures, YouTube beats Facebook with a percentage of 66%. Looking at these data, you definitely want to include YouTube live streaming as your marketing strategy going forward.
Before that, understand some of the tips from eTamu first below, come on!
Tips YouTube Live Streaming to Reach a Large Audience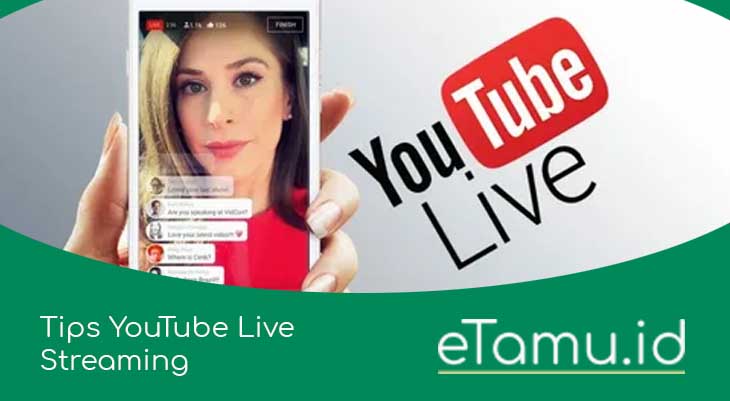 1. Choose the right live time
Basically, there is no right time to start live streaming. Even so, reported from Hootsuite, you can estimate when the time is right by analyzing YouTube performance through YouTube Analytics.
Find out, about at what time your live shows are mostly watched by the audience. If not, also look at what time your audience is online. If you're still not sure, make a poll on Instagram or YouTube, about when is the right time to live stream.
After determining a good time, immediately turn on the alarm so you don't forget and can prepare well.
2. Prepare the place and tools
Another tip before live streaming on YouTube is to make sure it's a good place for the video to be shot. Try to find a place with good lighting. If not, you can add your own lighting.
Apart from that, also set the mic so that the sound can be heard clearly in the ears of the audience later. Don't forget, the camera is on standby properly and arranged according to the background you want to display.
Apart from all that, if you don't have adequate tools, you can make the most of the equipment you already have.
3. Promote live streaming events
If you want to get more audience, you should first promote your event, either through personal social media or placing advertisements. Make a banner design in advance that will be distributed.
Apart from spreading it on personal social media, you can also ask for help from the people closest to you to spread the banner. If necessary, make a good teaser as an illustration of your live stream later.
This will increase the curiosity of the audience so that they are even more interested in watching you.
4. Interact with the audience
In fact, the audience has a soul. So, don't make them like statues. Therefore, the most important tip for live streaming on YouTube is to interact with all of your viewers.
For example, thank them for watching your video. Then, activate the comments column so that the audience can ask you questions directly. Don't forget to read the comments and answer them directly.
In essence, build a friendly and fun atmosphere during live streaming so that the audience sticks around until the end.
Often have difficulty speaking in front of the camera or many people? Don't worry, eTamu ExpertClass will provide a solution to this problem.
eTamu ExpertClass provides online classes with various themes, including how to improve communication skills and tips for fluent public speaking.
Not only that, you can also choose a class regarding YouTube marketing so that it is suitable for live streaming later.
5. Live streaming performance analysis
The thing that people often forget is not analyzing their live streaming performance. In fact, you can use the results of this analysis as a reference to make live streaming even better in the future.
Find out how many viewers your video has watched until the end. If the percentage is less than the average audience leaving your video, that can be a lesson going forward.
Maybe your video is less interactive or your background and lighting layout is lacking.
Final Word
Those are five tips that you can apply in running live streaming via YouTube. Are you ready to start live streaming? Remember, don't forget to build fun and enjoyable interactions, OK?
Related post: