If this is your first time setting up a live stream, you're reading the right article. In this complete guide, eTamu.id will help you set up live streaming seamlessly.
What to pay attention to and where to start? Check it out below, OK!
5 Steps to Setting Up a Successful Live Streaming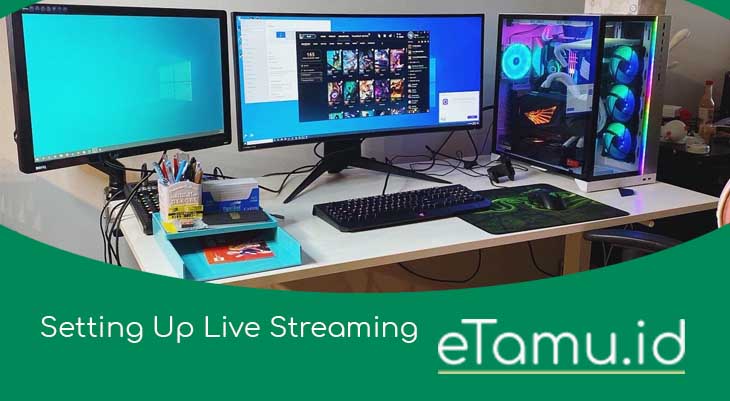 1. Plan the live stream like a formal event
The first step in preparing for a live stream is to structure your plan as if you were hosting an offline event. Make sure you have thought about and determined the following:
Audience
Once you know who your audience is, the next thing will follow. For example, when is the right time to start live streaming according to the habits of the target audience.
Content
According to Chelsea Hunersen, Social Media Marketing Manager from HubSpot, you should have thoroughly researched the topics and materials that will be presented at the event.
You also have to determine how many people will be at the event. For example, do you need a moderator ? Or is it enough with the sources?
Location
As important as researching venues for offline events, you also have to research the best places to hold live streaming first. TechRadar reports that people will only last up to 90 seconds to watch a live stream if their connection is poor.
Therefore, make sure you get a place with good connections, adequate lighting, and a conducive atmosphere.
2. Determine the platform
Each platform has its own advantages and disadvantages. So don't be careless in choosing a platform. For example, just because the platform is on the rise.
Some of the platform options that you can choose for live stream are:
YouTubeLive
Superiority:
most profitable
large audience reach
Lacks:
it takes more steps to set up a live stream
Find out in more detail about how to easily live stream on YouTube by clicking the button below, come on!
Facebook Live
Superiority:
easy to setup and operate
large audience reach
Lacks:
Find live streaming tips on Facebook by reading the article that eTamu has prepared, let's click the button below!
Instagram Live
Superiority:
Live streaming video results can be saved and broadcast again later
audience reach is quite large
Lacks:
can only use the live feature from a smartphone, not from a computer/laptop
So, eTamu also has tips for your live streaming on Instagram to attract lots of followers. Come on, click below to find the tips:
TikTok
Superiority:
large audience reach and engagement for the age group of 16-24 years
Lacks:
the live feature can only be used if you already have more than 1,000 followers
Apart from the minimum number of followers, there are other conditions and ways to be able to live stream on TikTok. Come on, read further below!
There are many more platform choices for live streaming such as Twitter, Livestream, and Twitch. In essence, adjust again to your audience, goals, and event content.
3. Prepare all equipment
The following is a list of essential equipment to prepare for live stream:
Camera: you can use a gadget such as a laptop, smartphone or tablet camera or a separate camera that can be connected to WiFi.
Microphone: can come from an inbuilt gadget such as a laptop microphone, smartphone or tablet or a separate microphone.
Background: set up the right background. Do you need a plain background? Or do you need a green screen so you can add a virtual background later?
4. Promote the event
Have you prepared for live stream? Well, now you have to make sure lots of people will watch the live broadcast. The way of course with promotion. Choose the promotion channel that best fits your target audience and content ideas.
5. Give directions to live stream guests
Whoever will be appearing on the live stream event, make sure you've explained the event sequence, concept, and everything else you need to know. You should also prepare sample answers to questions that guests or speakers might ask.
Final Word
So, that's a complete guide to preparing for live streaming properly. Still want to know more about live streaming tips and tricks? Also find out software recommendations for live streaming from eTamu.id.
Related post: