Every year Mother's Day is celebrated and various marketing activities are carried out. So, so that consumers can see your brand, eTamu.id has summarized interesting Mother's Day promo ideas for marketers.
During the celebration of Mother's Day there will be many promotions ranging from goods to services that you can provide or use related to mothers.
According to Word Stream, Mother's Day deals shouldn't just be about deep discounts, more so it's better if the promo is valuable and meaningful.
Meaningful and Interesting Mother's Day Promo Ideas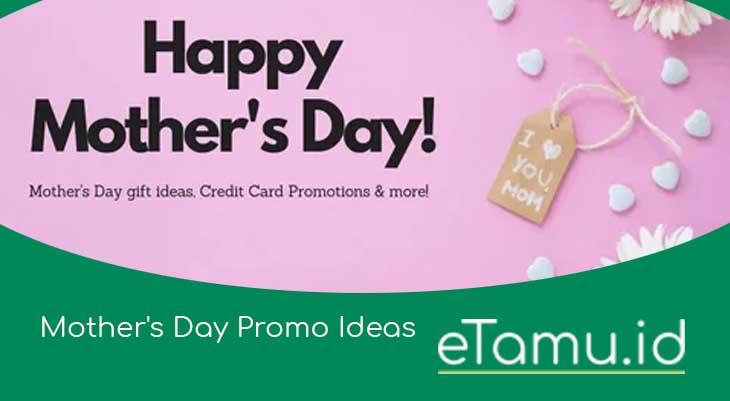 What kind of Mother's Day promo examples can you apply? Come on, see the full summary of eTamu below!
1. Giveaway 
One example of a popular idea that can be done during a Mother's Day promo is to hold a giveaway. A giveaway is a limited time form of promotion, in which a brand offers a prize to a few lucky customers after they meet the requirements.
If you want customers to participate, create promotions on social media and make the prizes more valuable and meaningful. For example, if you are a skin care brand, then you can give away a good best seller product such as an anti-aging serum.
2. Promo free shipping
Quoted from Privy, shipping costs are often the reason for customers to cancel buying a product. This is most often the case when shopping is done online, such as via e-commerce. This is a good opportunity for Mother's Day promotional ideas.
If some shops and brands provide a minimum shopping for shipping costs, you can give free shipping promotions without a minimum spending to celebrate Mother's Day.
For example, for brand hampers usually to get free shipping, there is a minimum purchase of IDR 300,000, but for Mother's Day, apply a free shipping promo without a minimum purchase plus a free greeting card.
Apart from making it easier for customers because it is free of charge, small gifts such as greeting cards can also be a special attraction.
3. Product personalization
Launching Printful, product personalization is one of the trends that started this year and is predicted to continue to be implemented in the next year. More and more customers are looking for personalized or limited-quantity products, rather than products that are widely sold.
Even though it has been popular for a long time, product personalization can be a simple interesting Mother's Day promo idea.
There are two ways you can introduce product personalization promotions for Mother's Day, namely:
create limited products or certain collections and make sure the products can be customized according to the buyer's wishes
or use an existing product, but the promo is in the form of customization, so buyers can add a personal touch
A simple example, you can make a scarf with engraved names, initials, or a special pattern based on the buyer's request.
4. Mother's day deals
From year to year, many brands offer special deals or promotions for certain celebrations, including when celebrating Mother's Day. An example for the idea of mother's day deals is by offering a special promo code.
For example, a brand that sells watches can promote mother's day deals by providing a special promo code for ordering through the website.
If you use the promo code "MOMISHERO", customers can get up to 30% off and free shipping. This promo is one way if you don't want to openly lower the price and still make the item's value high.
5. Donate any specific purchase
Not only about discounts and cheap goods, you can also run Mother's Day promotions by doing social activities such as donations. Mother's Day will be interpreted differently by each person, so as an effort to maintain inclusivity, you can offer donations of promo ideas.
For example, for every purchase of a special Mother's Day product, the buyer contributes 5% to orphanages as well as foundations and social organizations that fight for women's rights.
6. Care package
If your business has more specific clients and is small in scope, sending care packages can be an interesting Mother's Day promo idea. For example, a small skincare brand where you can still recognize and remember your loyal customers.
You can send care packages to customers with mother status or addressed to mothers from your loyal customers. This care package contains simple products such as scented candles, flowers or plants.
This promo will certainly improve the quality of your relationship with them. So, if your business is widely known and your customers come from various cities, then the care package can be a paid promotion.
The purpose is the same, given to customers who have become mothers, or to mothers of customers.
7. Promo bundle
Promo bundles are one of the best ways to increase the average sales value using existing products. So, there is no need to add new collections or products specifically for Mother's Day.
For example, for a shoe brand, you can make a promo bundle to buy a pair of shoes and sandals, so the buyer will get a discount as well as free gifts, such as socks.
Final Word
Those are examples and promo ideas for Mother's Day that you can use. The thing to remember before making special promotions for celebrations such as Mother's Day is momentum.
You have to plan a marketing strategy in advance, complete with how to do campaigns or promotions on social media. This will help increase sales significantly as well as the message of promotion on Mother's Day is well conveyed.
So, to get a marketing strategy that is right for your brand, you can read and study it in full in the article from eTamu.id.
Related post: