eTamu.id – These days, content intelligence is one of the most popular buzzwords in the world of content marketing. This is true because it is considered to have great potential to improve the quality of corporate content.
Not only that, but content intelligence can also optimize content operations and provide marketers with valuable insights into the strengths and weaknesses of their strategy.
Well, indeed, what is meant by content intelligence? What is the work process like and what other benefits does it offer?
Relax, eTamu has summarized everything for you. Come on, see more below.
What is Content Intelligence?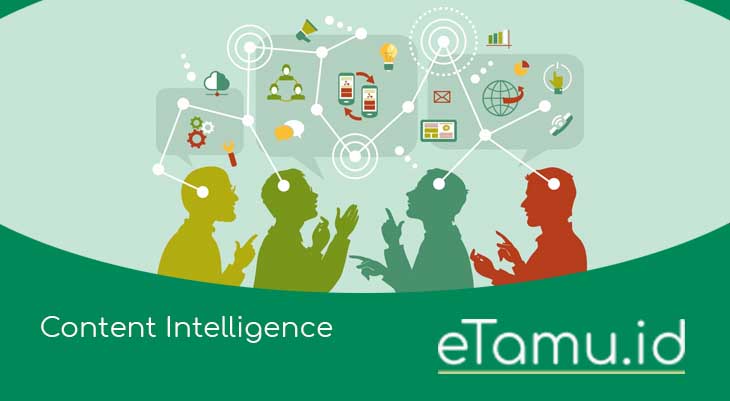 Before discussing the benefits and stages of work, we must first review the definition of content intelligence.
Launching the Hubspot page, content intelligence is the process of using software that combines machine learning and AI to conduct research on the effectiveness of certain types of content.
It directly helps marketers to create high-quality content strategies that bring benefits to the company.
In other words, the term content intelligence refers to GPS that can direct marketers to content strategies that can increase business prospects, conversions, and revenue.
By utilizing this technology, you don't have to guess what type of content your audience needs. Because, the data he produces will give you in-depth insights regarding market analysis and competitors.
As a result, you'll have full context on what types of content do and don't work.
Content Intelligence Work Process
As eTamu has explained, content intelligence is a process in which marketers utilize AI and data to optimize their content marketing strategy.
However, in order to run smoothly, the work process will be divided into 3 different stages. Although they are not similar, these three stages are interrelated and will facilitate the process of filtering insights.
So, here are 3 stages in content intelligence that are usually carried out by large companies.
1. Data collection
According to the Marketing Insider Group, the first stage of work in content intelligence is data collection. As the name implies, marketers will collect as much data as possible in this first stage.
Filtered data also comes from many sources, such as website analytics, social media statistics, customer surveys, CRM and other business metrics.
In order for the screening process to run smoothly, generally each source will be managed by a dedicated staff.
2. Data analysis
The next stage in the content intelligence work process is data analysis. Yes, after successful marketers receive new data, they are tasked with analyzing it in depth.
However, fortunately they can take advantage of a variety of data analytics software for this one need. What is certain, they must be able to choose a system that is capable of doing data mining to see the latest patterns and trends in the world of content marketing.
3. Insights and recommendations
The last stage in the content intelligence work process is insights and recommendations. According to Foleon, once the data is analyzed, marketers will find various actionable insights to increase the effectiveness and value of their content.
However, that wasn't all they needed to shift through. Insights must also be able to increase ROI, and better meet customer needs.
Marketers also need to make recommendations based on insights about future topic trends that can improve the quality of their content strategy.
Benefits of Content Intelligence
Content intelligence is a concept that has great potential to support a company's business success. This is because the insights he distills are able to provide solutions to problems being faced by the company's sales and marketing team.
Not only that, the work process can also offer a variety of other benefits for a business entity. So, roughly, what kind of benefits can companies achieve by using content intelligence?
Here is the explanation, as mentioned by Market Chorus:
help companies reach the right target customers
able to return ROI effectively
improve efficiency in content dissemination
increase the personalization of content in the company's official platform
increase revenue from the sales team, marketing, and the company's business
Final Word
That's eTamu' brief explanation of the sundries of content intelligence that you need to understand. In essence, CI is a work process that offers interesting insights regarding the quality of a company's content.
Therefore, if you want to improve the performance of your company's content marketing strategy, don't forget to master this concept in depth, okay!
So, besides the explanation above, you can get other similar information on the eTamu Blog content marketing channel.
There, there are many discussions about the latest strategies and concepts in the world of content marketing that you can learn.
So what are you waiting for? Don't miss. Come on, check out the collection of articles right now!