eTamu.id – The content marketing strategy will maximize the results with the help of interactive content. However, have you ever heard of this term? Interactive content has actually been around for a long time. However, in recent years marketers have begun to be interested in using it.
There are many reasons why marketers are starting to switch to using interactive content. The reason is, this type of content can attract more attention from visitors. In addition, when compared to content in general, interactive content is said to be easier to increase website traffic.
Want to know more about this one thing? Continue to listen to the explanation below, OK!
Definition of Interactive Content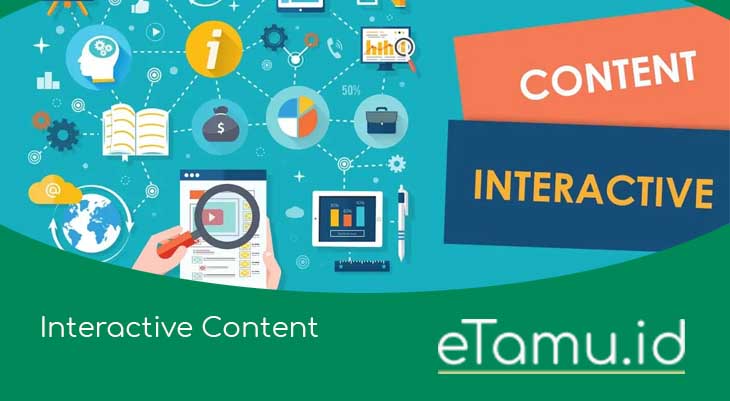 Before finding out what are the examples of interactive content, it's better to understand what it means first. Reporting from Ion Rockcontent, interactive content is content where visitors can actively participate.
So, they don't just passively read, watch, or listen to the content we provide. This type of interactive content will certainly be more attractive to users. The reason is, they can interact directly with the content so users can have a more unique experience.
A more interactive type of content should be tried if you want to bring more traffic to your website. Apart from that, there are several other reasons why this type of content should be tried. One of them is human nature that likes interaction.
That's why, when presented with IC, they will feel more interested in trying it. Currently, there are too many marketers who create content marketing strategies by relying only on blog content, infographics, or videos.
This makes a lot of people quite bored because the content that is created is just the same. That's why, they are more interested if there is a website that offers something new such as interactive content.
Benefits of Interactive Content
Curious what are the benefits of creating interactive content? Find out the answers below.
1. Increase website traffic
Having a website with high traffic and always stable is certainly the dream of every brand. There are many ways you can do to increase website traffic and make interactive content one of the answers.
When your website provides a variety of interesting IC, of course that will be the main attraction for visitors. Especially if the content  provided is quite varied, of course visitors will feel at home on your website.
In fact, they will always come back to your website to try any content that they think is very interactive and worth trying.
2. Increase brand awareness
Every brand always wants its brand name to be known by more people. However, increasing brand awareness is not an easy matter. A mature strategy is needed so that the brand name can be widely recognized. 
In addition, creating IC can also be relied upon. According to Coschedule, interactive content will increase the chances of content becoming viral and being recognized by a wider range of users.
When the brand is known, don't forget to continue to improve the quality of the content  that has been created. This is useful for attracting new users and retaining old users so they can become loyal visitors.
Examples of Interactive Content
After knowing the meaning and benefits of IC, now find out what types you can try.
1. Quiz
According to Neil Patel, quizzes are one of the most well-known types of interactive content and are able to become a magnet for many people.When compared to static content, website visitors will definitely be more interested in trying more interactive content such as quizzes.
There are many kinds of quizzes here, not only quizzes that are for educational purposes and give users only knowledge. You can also try making sample quizzes aimed at entertainment. For example, a personality quiz according to a character from a famous film or series.
Quiz with entertainment purposes like that are also shared more often on social media so they can reach more new users.
2. Assessment
This interactive content is almost like a quiz and is often used by brands to attract new visitors. In general, the assessment will give different results depending on the answers given by the user. So, you just need to prepare a topic and create a series of questions for users to answer.
3. Surveys and polls
Surveys and polls must be familiar to your ears right? Many brands take advantage of this to ask for feedback from customers. Apart from providing feedback on products, brands also use this to find out more information from their customers.
However, sometimes customers feel bored when they have to fill out surveys or polls from a brand. That's why it's important for brands to create more interactive and engaging surveys and polls for customers.
Design plays an important role here. You can create user-friendly surveys and polls with attractive designs.
4. Interactive videos
Video is one of the most popular content today. This trend is predicted to continue to grow in the next few years. According to Singlegrain, 51.9% of marketers say that video has a better ROI than other types of content.
In addition, 43% of consumers are also known to prefer video content from more attractive brands. So, if you want more interactive video content, you can add features such as polls or questions that can be answered by the audience.
This is an explanation of interactive content, starting from its meaning, benefits, and examples. If you are really interested in the world of  content, you can have a career in that field. At eTamu.id, there are lots of jobs in the content field, from content marketing, content writer, to content creator.
Related post: