eTamu.id – Many companies are implementing online marketing strategies because they are considered more effective. However, some companies are still implementing offline marketing strategies. 
Why is that? Because offline marketing strategies are still relevant for companies, especially for their marketing needs.
The offline marketing strategy itself consists of several types. Several types of offline marketing  strategies are mostly still used by companies today.
The 7 Types of Offline Marketing Strategies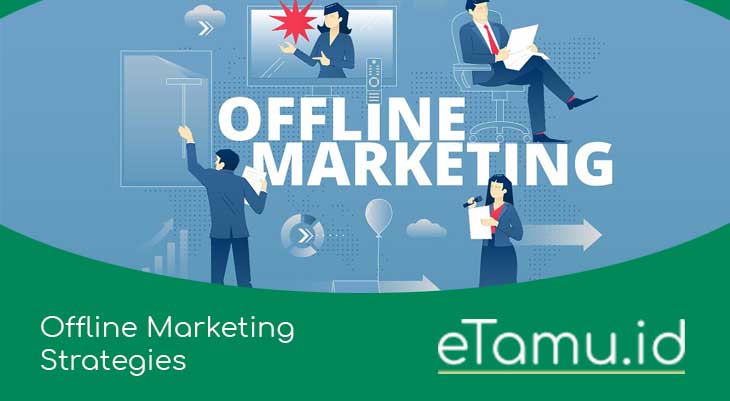 1. Using Billboards on the Highway
Even though they have to pay high costs, a number of companies still want to use this type of offline marketing strategy. That's because the location of the billboard itself is very strategic, namely: on the highway.
Its location on the main road makes advertisements on billboards easy for many people to see, especially for those who are crossing the streets. This offline marketing strategy itself is carried out by placing advertisements on billboards that they rent.
Ads that are posted usually tend to highlight the visual appearance, and minimize the text or information in the ad. Like: showing people consuming a product, or doing something.
The use of the text itself is used to mention the name of the advertised product/service. If not, the text used usually contains the slogan or motto of the company, product or service being advertised.
This was done so that the ad could be conveyed as effectively as possible to those who drive and pass by on the highway.
2. Distributing Business Cards
In contrast to the previous offline strategy, this offline marketing strategy is relatively cheaper in terms of costs. The method is also quite easy. The company only needs to distribute business cards to several of their clients and consumers.
How to share it was not arbitrary. Usually, companies will distribute business cards at certain moments. For example: on the agenda of a meeting or meeting with a client; gathering events with consumers; and at certain other moments.
This offline marketing strategy is still used because it is very effective, especially in introducing the company itself. In addition, this offline marketing strategy can also be a connecting link between the company and its clients and consumers.
That's because companies usually always fill out a business card with the name and contact (whether phone number, email ( email ), or even both) from the company itself. The inclusion of these two pieces of information is what makes them known and contactable by their clients and consumers.
3. Using Offline Classified Ads 
Even though many advertise through  online classified ads,  the use of offline classified ads  as an  offline marketing  strategy is in fact still being used.
This can be seen from the number of classified ads in newspapers or magazines. Offline classified ads can usually be done by a number of offline media, especially newspapers and magazines.
Offline classified ads  are usually inserted in several parts of the  offline media page. For example: at the top of the page, in the middle or bottom. Even in certain  offline  media (especially newspapers), offline  classified ads  are usually placed exclusively on a full page provided specifically by the media.
4. Using Advetorials in Newspapers and Magazines
In addition to classified ads, companies often use advetorials in newspapers and magazines. Advetorial itself is an offline marketing strategy that is presented in a journalistic style.
More simply, advetorials are advertisements written in the style of news or articles, so that their shape is similar to news or articles in print media (mainly newspapers and magazines).
This offline marketing strategy is perfect, especially for companies that want to advertise or do marketing in a subtle and persuasive manner.
If a company wants to use this type of strategy, the company usually asks the media (both newspapers and magazines) directly to make advetorials.
Quoted from Business 2 Community, marketing through print publications such as newspapers and magazines is also beneficial because it will show brand visibility and also show the expertise of the brand.
The company only needs to provide a number of data which will later be included in the advetorial to be made.
5. Advertising on Television
In Indonesia, television is a medium that can be accessed by all groups. From the upper middle class to the lower middle class, we can be sure that they will definitely be able to access television.
Because it can be accessed by all people, every content (including advertisements) can also be accessed by these people. That is why advertising on television is one of the offline marketing strategies that is still used today.
The wide range of people accessing television is a challenge for the company, especially in implementing this offline marketing  strategy. 
The reason is, they have to make advertisements on television that can be understood by all groups, from the lower middle class to the upper middle class.
In addition, they also have to pay attention to the duration of the ad being displayed. This must be considered, considering that advertisements on television are usually shown only briefly.
6. Become a Sponsor of an Event
You could say, if this offline marketing strategy is mutualism. The reason is, this strategy benefits both event organizers and companies.
From the organizers, they will get the funds they need from the company. Meanwhile, the company will benefit in the form of promotions by the event organizers.
This offline marketing strategy is carried out through a number of processes. First, the company accepts the proposal from the organizers in advance. If the company agrees, the company will provide the required amount of funds to the organizers.
However, with conditions, the organizer must put the company logo on the stage or area where the event is held.
In addition, the company also usually asks the organizers (especially the MC) to give thanks to the company, because they want to be a sponsor of the event.
7. Distributing Brochures
Actually, this strategy is somewhat risky. Besides being quite expensive, brochures are also prone to loss and are also easily torn or damaged. Even so, this offline marketing strategy is still used by companies for various reasons.
The first reason is because this offline marketing strategy is suitable for special places or events. Such as on the side of the road and at trade shows.
Besides that, distributing brochures is also suitable, especially if the company wants to carry out an offline marketing strategy in an informative and concise manner.
This is reasonable considering that brochures usually contain certain information about the company briefly. Such as the company's latest product information, discount info or price cuts, and so on.
Those are some types of offline marketing strategies that companies are still using today.
Of course, the use of this strategy has been well considered by companies that are still implementing it.
Lots of knowledge and marketing strategies that you can learn and apply.