eTamu.id – Are you familiar with the term video email marketing? Indeed, this type of email marketing is not as common as email marketing , where the content is delivered in text or image format.
According to Hubspot, videos that are used as the main content in email marketing campaigns have the potential to provide high engagement rates. This is especially for CTR (click through rate).
In this article, eTamu will give you information about what video email marketing is and tips on how to use it. So, let's just get into the main discussion.
What is Video Email Marketing?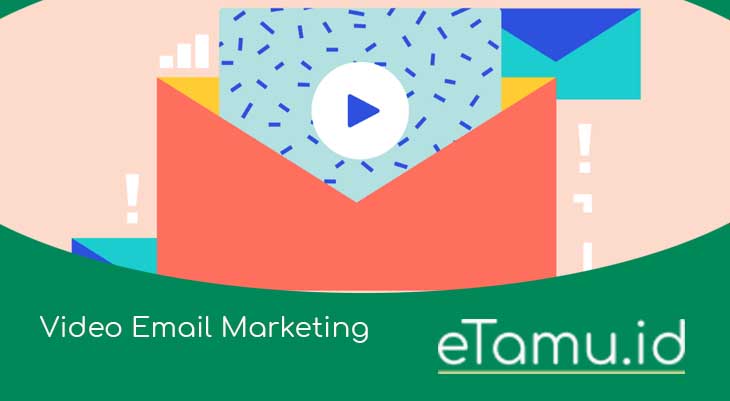 Video email marketing is simply the use of video as the main content in an email marketing campaign. According to HubSpot sources, email marketing videos have great potential to attract audiences from a visual perspective.
We may not get this from email marketing, where the content is delivered in text or image formats. Apart from that, the video format also opens opportunities for marketers to present advertisements that are dense with messages and catchy for the audience.
Since the past few years, video has indeed become a marketing medium that is enjoyed by audiences and produced by many creators.
According to Wyzowl survey data, 92% of respondents who work as marketers state that video will be an important part of the marketing strategy being pursued throughout 2022.
Still from the same source, it was noted that 86% of business respondents plan to function video as a marketing tool during 2022.
7 Tips for Using Video for Email Marketing Purposes
Canadian B2B technology company, Igloo Software managed to increase the CTR (click through rate) of their email marketing campaigns by 189% within three months.
Not only that, they also found that the percentage of open rate emails they sent went up to 208%. This fantastic achievement was possible because they used 200 videos as the main content for their email marketing.
So, in this section, eTamu will share 7 tips for using video for email marketing purposes.
1. Using videos as bonus content for subscribers
You can use videos as bonus content in emails that you will send to subscribers. Email subscribers from a line of business tend to enjoy varied email content.
So, having surprise content in video format can increase their enthusiasm. For example, the business that you run has an email newsletter program that is sent once a week.
You can use the program and add a video teaser of a product that will be released by your business in the near future. This method can arouse the interest of subscribers to find out more about the product that will be released by your business soon.
Apart from that, the video will also serve as a sweetener in the email newsletter which has the potential to increase engagement rates.
2. Make emails more personal
Does the website of the line of business that you run present a lot of videos for viewers to enjoy? If so, you can use these videos for marketing benefits. For example, there is one user who hasn't finished watching one video from your website service.
You can use the video as a reminder in the email you send. Usually, this kind of data can be obtained when you access analytical tools that are integrated with your website.
In this way, the email marketing that you will send will be more personal. In addition, this message can also be a reminder so that they immediately finish watching videos that have not been finished.
3. Show the company culture through video
Email marketing doesn't always have to be done by hard selling.Sometimes, you can also do subtle promotions. For example, promoting products by displaying company culture.
This kind of promotional video format is mostly used by startup companies with unicorn and decacorn status in Indonesia. Well, putting a promotional video like that in an email isn't an interesting idea to implement?
4. Announce the event using video
Does your company actively organize events or even sell events as its main product? If so, maybe you can make a video recap of events that have been held to be sent to customers or subscribers.
This email marketing method can give customers an idea of how your business is performing. Apart from that, videos can also arouse customer curiosity about the event products that are being offered.
5. Use leads for the customer journey
Email marketing is not only for loyal customers. You can also use this marketing channel to increase and maintain leads.
Make sure every email marketing that is delivered to customers and subscribers is connected to a series of customer journeys that have been prepared for your business.
For example, to complete interesting video content linked in an email, you ask customers to fill out certain forms. Later, the form will become customer data that is ready to be used by the sales team for follow-up.
6. Add the word "video" to the email subject
Arranging email formats is quite an important part when we are creating email marketing concepts. In making the format, we usually start from making the email subject .
Generally, customers or subscribers will be more interested in opening and knowing emails that use emojis in the subject column.
So, here you can try writing "[VIDEO]" or using the emoji that represents the word earlier as the email subject. Do A/B testing to try different email subjects. After that, identify which subject the customer is most interested in.
7. Place the video near the end
It's great to put a video at the very beginning of an email. Here, customers or subscribers can immediately focus on receiving embedded video content. However, you can try an alternative method, which is to place video content near the end.
In this way, the customer will first read the text copy that has been written in the body of the email. So, they will better understand the contents of the inserted video content.
This method also has the potential to make customers and subscribers better understand the description of the product or promotion that you are doing.
Final Word
From the explanation above, it can be concluded that video email marketing is a method that has the potential to bring in leads. So, from there, you can take advantage of existing leads by connecting them to the customer journey series.
Oh yes, eTamu still has various other interesting information related to the world of marketing, you know. You can access the information in question through articles that have been published on the eTamu Blog.
Summarized from reliable sources, of course the information that will be conveyed can improve your marketing skills!
Related post: