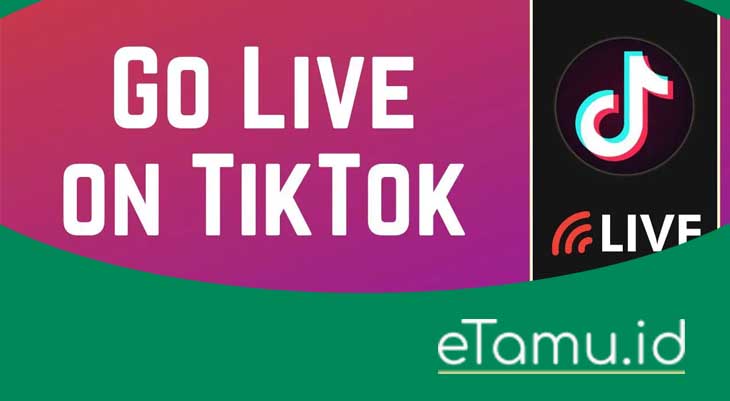 In this modern era, it seems like every marketer from a big or small company needs to know how to go live on TikTok. How come? According to Data Reportal research, TikTok is one of the fastest growing social media and has nearly 800 million users worldwide.
Therefore, a strategy to live on the platform is very important, especially for marketers who have a millennial and Gen-Z target market. Live on TikTok can be a field to get their attention.
So, roughly, what's the way to go live on TikTok? Here eTamu describes the steps for you.
Requirements to Live on TikTok
Before reviewing how to go live on TikTok, we must discuss the terms first. Launching the Make Use Of page, TikTok created a live feature as a means for its users to share stories, passions, and get closer to the audience.
Based on this concept, users who want to hold live can share videos with a longer duration with their audience. Not only that, the comments received are also real-time, so that content creators can immediately respond to suggestions, requests and questions from the audience.
So, even so, there are several requirements that users need to fulfill if they want to live on social media. Here's the presentation.
1. Have 1,000 followers
First of all, users must have at least 1,000 followers tiktok to make live streaming videos. After reaching that number, the option to hold live will appear on the application page. Don't worry, the process won't take long. The live button will appear in a few days.
2. 16 years old
Apart from having 1,000 followers, users must also be 16 years of age or older to record videos in live conditions. So, audiences who watch live streaming on TikTok can send virtual gifts directly to content creators as a sign of support.
However, in order to send gifts, the audience must be over 18 years old. Prizes sent to creators can later be exchanged for cash. Interesting right?
Methods How to Live on TikTok
After fulfilling all the requirements above, then you can immediately hold a live stream on TikTok. However, if the option to go live isn't in your account yet, check again whether you really have all of these requirements.
In fact, the way to start a live on TikTok is pretty much the same on every device. There is no big difference in the steps even if you are hosting a live on an Android or iOS smartphone.
Here eTamu describes the steps for you revealed by Mashable.
First of all, you need to open the TikTok app and log in to your personal account.
Next, after arriving at the main page, press the plus button which is right below the screen.
After that, scroll the menu until you find the live option under the "Record" button.
So, the way to start live on a TikTok account is to give it a title. Make sure the title of your live stream is catchy so that your audience is interested in watching it.
Finally, click on the " Go Live " option to start launching the live stream.
When finished, press the "X" button on the screen to end the live event.
Final Word
Thus eTamu' brief explanation of how to live on TikTok and the conditions that you must meet. We hope that eTamu' explanation above can help improve your marketing efforts!
So, besides the tips above, you can get other similar information by signing up at eTamu. Later, you will have the opportunity to subscribe to the eTamu Blog newsletter and receive various interesting articles about the professional world.
Not only that, you can also learn a lot of social media marketing strategies directly from experts in the eTamu ExpertClass webinar.
Related post: