What comes to your mind when you hear the word premium content? Can the content be accessed only if the audience buys it with money? This statement is not entirely true, but not entirely wrong either. eTamu.id will explain the actual facts in this article.
Apart from that, there is also information about the types, advantages, and disadvantages of premium content. Come on, see more!
What is Premium Content?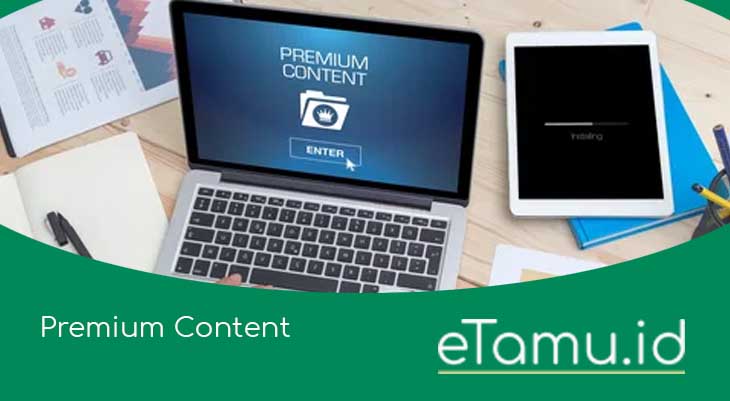 We start the discussion with definitions. Quoting PCMag, premium content is digital content that can only be accessed for a fee. This cost is not only money, you know. You can also ask for audience contact before giving them access to your premium content.
In addition, according to Gianfagna Strategic Marketing, premium content has the following characteristics:
focus on topics that are needed by your audience and important to your business
displays a guide or information to deal with a particular issue
Types of Premium Content
Now, we discuss various types of premium content.
1. E-book
First of all, there are e – books. Quoting the Digital Marketing Institute, premium content on this one can make your brand more trusted, you know. You can write manuals, datasets, and more.
Before making it, don't forget to check your competitors. If they have made an e-book with topic X, look for other topics. You can also make a more updated and complete e-book on topic X.
2. Template
Template is a document that already has a certain pattern. Later, template users only need to fill in the blanks of the document. Well, templates can also be premium content. Some examples are:
annual planner templates
template marketing plan
presentation templates
The contents above must be downloaded by the audience. So, as a download condition, you can ask for an email address, or even a certain fee.
3. Interactive content
According to the Content Marketing Institute, interactive content is content that engages the audience directly. To make it clearer, here are examples:
a. Quiz
First of all, there is premium content in the form of quizzes. For example, you work in a tutoring company. You can make a quiz with the theme "what college major is right for you?". There is also a lighter quiz option, such as "judging by your learning style, which cartoon character are you?".
Later, the audience will be asked to answer several questions. The results they get will be adjusted according to that answer.
b. Calculator
Online calculators can also be premium content, you know. Just imagine, you work in a financial company. Just create a special web page for calculating taxes, to do budgeting.
c. Interactive infographic
Want to display data in a different way? Just make an interactive infographic. Later, the audience can click on the components in the infographic. The displayed data also changes according to the audience's interaction with it.
4. Webinar recording
Ever held a webinar, then recorded it? You can resell the recording as premium content, you know. Of course, do this with the consent of all parties in the webinar, especially the speaker.
Advantages and Disadvantages of Premium Content
Now, we discuss the various advantages and disadvantages of premium content.
Advantage
1. Increase revenue
You can sell your premium content. This of course can increase the company's income, aka revenue.
2. Develop an email list
As eTamu.id has explained, premium content doesn't always have to be bought with money. You can also ask for the email of the audience. Finally, as Waypost Marketing wrote, your email list grows. Your leads are also increasing.
3. Increase traffic
Premium content can also increase traffic, you know. Of course, for this to be achieved, you have to create content with topics that are right for your audience.
To determine the topic, you can create a buyer persona. Quoting Hootsuite, a buyer persona is a detailed description of someone who is your audience.
This description can be:
desire
behavior
objective
pain points (problems encountered when achieving goals)
buying habits
and others
By understanding all of that, you can design the content they really need. Your content is right on target, so it has the opportunity to bring in high traffic.
Disadvantages
1. Development takes time
Unlike regular articles, creating premium content takes more time. Because, you have to collect more information than usual. In addition, to be of higher quality, infographic or e – book content must be designed. The design process certainly takes time.
Sometimes, there are also revisions that cannot be completed overnight. So, prepare your time when developing content, OK?
2. Making it requires special skills
As eTamu.id has alluded to, in order to have higher quality infographics or e – books, they must be designed. This process requires not only time, but also special skills. You should ask the designers for help.
Not only that, calculators and interactive infographics also require the work of developers. After knowing the meaning, type, plus and minus of premium content, are you interested in making it? Maybe, you still want to find alternative strategies that you can use.
If so, come on, find the right strategy in the eTamu.id Blog Content Marketing category! There, there are many articles about content that can add to your insight. Don't worry, all the information is summarized from trusted sources. There is no need to doubt the truth.
Related post: